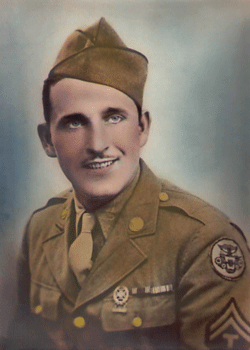 Nicholas Paulachok
Biography: Nicholas "Nick" Paulachok was born on July 10, 1919, in Philadelphia, Pennsylvania. He was the son of Frederick "Fred" and Matrona Polachok. Fred was born in Russia while Matrona was from Austria and they both had emmigrated to the United States. Nick, and at least one of his brothers, had "Americanized" their names to Paulachok. He attended Simon Gratz High School in Philadelphia and his enlistment record identifies that he completed the full four years. He is also listed as working as a stock clerk prior to entering the service. His mother Matrona passed away in 1939.
Service Time: Nick entered the service on February 21, 1942, at Fort George G. Meade, Maryland. He was assigned to the Reconnaissance Company of the 703rd Tank Destroyer Battalion. In an order from the Third Armored Division, dated July 15, 1942, Nick was ordered to leave Fort Hood, Texas, and travel to Milwaukee, Wisconsin, to attend a four week training course for motorcycle mechanics at the Harley-Davidson Motor Company. The orders also outline a cash allotment for food and travel expenses.
Motorcycle Mechanics Training Orders
Although specifics of his time with the unit are not available, it is probable that he saw action in at least four of the unit's five campaigns, Normandy, Northern France, Rhineland and Ardennes-Alsace. On March 29, 1945, the Battalion Command Post, along with Headquarters and Recon. Company, traveled from Schonbach, Germany, to Ober Marsburg as part of Task Force Welborn. This distance was identified as 90 miles and it was part of a Third Armored Division (to which the 703rd was attached) offensive.
Operation reports identify Nick as being MIA (Missing in Action), along with 2nd Lt. John E. Edwards and two other enlisted men and the 1/4 ton truck that they were traveling in. The unit did reach their destination very early the next morning (0300 hrs) but the report for April indicated that Technician 5th Grade Nicholas Paulachok and Lt. Edwards were identified as KIA (Killed in Action). The other two men, Pfc. William C. Anderson and Pfc. Wilbur F. Burch were identified as LWA (Lightly Wounded in Action). At the time of his death, Nick was 25 years old. He posthumously received the Purple Heart and was brought home and buried in the Oakland Cemetery in Philadelphia, PA.
In addition to Nick, two other brothers and a step-brother all served in the armed forces. I want to thank both Nick and his family for the supreme sacrifice they gave for this country. I also want to thank Nick's nephew, Gary, for providing this information about his uncle and his service.