Andrew Phillips
Biography: Andrew "Andy" Phillips was born on February 27, 1923, in Attleboro, MA. He was the son of William and Mary Phillips who were immigrants from Russia and had changed their last name to gain acceptance in their new country. Their original name is thought to have been Dekterow. Andy completed two years of high school before going to work as a welder and flame-cutter.
Service Time: Andy entered the service on March 31, 1943, and was assigned to the 703rd Tank Destroyer Battalion. The 703rd was formed from 3rd Armored troops and was attached to the 3rd for most their service time. They participated in five campaigns including Normandy, Northern France, Rhineland, Ardennes-Alsace and Central Europe. Andy functioned as a TD driver and at one point his TD was struck in the rear and disabled. Two of the crew were killed but Andy and the other two members escaped. One particular story his family recalls was of a small terrier stray that the crew adopted and had living with them in the TD for a few months. The dog went with them into several battles and became a wonderful companion. It would even growl to warn them when someone approached the TD. They were later forced to leave the dog with a family in France. Another story relates how the Germans would hide their tanks in large mounds of hay and slowly creep across the fields. The TDs would train their gun-sights on the mounds and watch to see if they moved. The 703rd hid their TD's in small buildings and tried to take out low flying aircraft with their 50 caliber machine guns. Throughout each of the stories Andy told his family, his love for his crew was emphasized in all of them. They were very close and looked out for each other like brothers.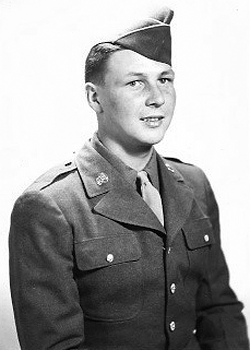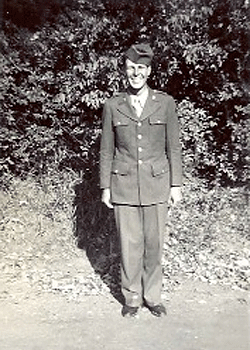 Andy returned to the U.S. and worked as a Master Pipe Fitter, a Field Engineer and finally the owner of Gas Combustion Service for 23 years. In January, 1954, he married the former Constance E. Nichols and they made their residence in Abington, MA. The couple had three children, Pamela, Robert and Scott. In his spare time, Andy enjoyed Ham Radio and was a Morse Code operator. In 1971, he married Sylvia Barry who he spent the remainder of his life with. He enjoyed many outdoor activities, including fishing and fly tying, hunting and reloading ammunition, gardening, cooking and canning his own food. He was a member of the Masonic Lodge and was a Free Mason for over 50 years. A member of the NRA and a firearms instructor for 25 years, he was also a member of the Hanson, MA, Rod and Gun club and served as a Scoutmaster with Troop 40 in Abington, MA.
Andy passed away on July 29, 2010 and was cremated. At the time of his death, he had three grandchildren, Timothy, Jennifer and Caden.
I want to thank Andy's son, Scott, for providing the information and photos of his father. There are additional images of Andy and his crew in the Photo Gallery for the 703rd TD Bn.