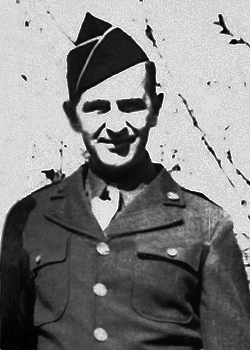 Alvin N. Potter
Biography: Alvin Newt Potter was born on August 20, 1913, in Jonesboro, Louisiana, which is in Jackson Parish. He was the son of William Thomas Potter and Lillian Viola Mitchell and attended public schools in Jonesboro.

Service Time: Alvin entered the service and was assigned to Company C of the 802nd Tank Destroyer Battalion. The 802nd landed in France on July 1st and saw action three days later at Carentan. The unit was equipped with 3 inch towed anti-tank guns, which they used for the next nine months through Brittany and then across France and into Luxembourg. During that time they supported actions at the Siegfried Line and the Battle of the Bulge. They converted to self-propelled M36 tank destroyers early in 1945 and crossed the Rhine River at Wessel, Germany, before joining the battle at the Ruhr Pocket.
Alvin received credit for all of the unit's campaigns including Normandy, Northern France, Ardennes-Alsace, Rhineland, and Central Europe. He received the EAME, American Campaign, WWII Victory and the Good Conduct Medals. He left the service at the rank of Staff Sergeant.

After returning to the U.S., he operated a small grocery and convenience store. On April 19, 1947, he married the former Eula Lee Ruby Adams who was the daughter of Clerfe Paul Adams and Meotile Guillot of Thibidaux, Lafourche, LA. The couple lived in Jonesboro and had four children, 2 boys and 2 girls, but sadly the oldest son died at the age of 4.
Alvin passed away on October 31, 1974, and was buried in the Jonesboro Cemetery in his home town of Jonesboro.
I want to thank the Potter family for allowing me to post this information about Alvin and also a friend of the Potter family, Norann, who assisted with communication and processing of the materials.