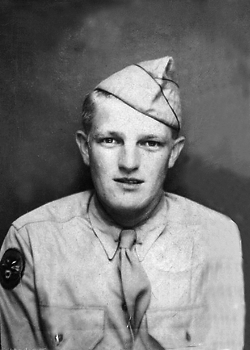 Robert E. Palmer
Biography: Robert Elias Palmer was born on November 1, 1922, in Columbus, Ohio. He was the son of Archibald Kane Palmer and Florence Homer. Archibald was a U.S. Army Veteran of WWI. Robert attended McGuffey Elementary and Medary Junior High School.
Service Time: Robert was sworn into the service on December 17, 1942, and reported for duty on the 26th. A group of men from his area were transported from Columbus, Ohio, to Fort Thomas, Kentucky, where they stayed for two weeks. He then boarded a train en-route to Fort Hood, Texas, where he was assigned to the 893rd Tank Destroyer Battalion.
He remained there for three weeks before heading to Camp Shelby, Mississippi, where he and the other members of the unit stayed for a year of training.
The 893rd spent a few weeks at Camp Kilmer, New Jersey, before leaving for Europe on January 9, 1944. They arrived at Liverpool, England, on January 18 and then landed in Normandy at Omaha Beach on July 1. The 893rd was attached to the 2nd Infantry as they moved into France. Robert served as a driver in his tank destroyer and at one point, volunteered to drive across a field that was known to be mined. This action would make it possible for foot soldiers to walk in the TD's track safely. Robert succeeded in his mission and was later awarded a Bronze Star for his bravery.
Robert recalled needing sleep so badly that he crawled into a coal bucket and covered himself with coal, to remain hidden from the enemy. Toward the end of the war, his TD was in need of a new Commander. Robert was assigned the position and promoted to Sergeant. Once, while traveling in the TD, shells began to explode all around and fragments flew in all directions. One piece hit his face, leaving a cut which became a scar that was visible the rest of his life, a small reminder of his time in the service along with the Purple Heart he received for the wound. He also suffered from hearing loss due to the many loud explosions.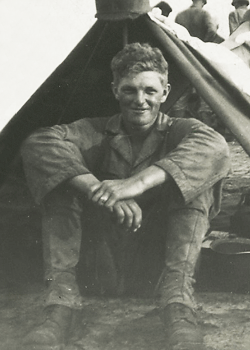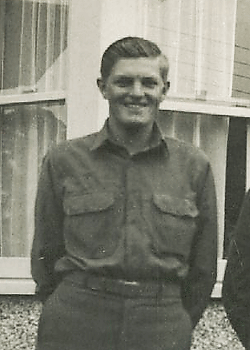 The 893rd remained in Germany after the war and served as guards in the German prison camps. They moved to Camp Lucky Strike and then LeHavre, France, where they boarded a Liberty ship for the return voyage home. Robert received credit for each of the unit's five campaigns, Normandy, Northern France, Rhineland, Ardennes-Alsace and Central Europe.
Interview with Robert E. Palmer – 50th Anniversary of WWII

After returning to the U.S., Robert married the former Evelyn Jean Justice on May 11, 1946. She was from Columbus, Ohio and was the daughter of Charles Dennis Justice and Lottie Florence Cydrus. Lottie's father had been a scout along the Ohio river during the Civil War.
The couple had two children, Ginger born in 1948, and Deborah in 1955. Robert was employed as a foreman in the paint division at the Union Fork and Hoe Company. He later worked at the State of Ohio Department of Transportation as a sheet metal worker.
In his spare time, his family always came first. He loved spending time with his 4 grandchildren and his 6 great-grandchildren. He also enjoyed traveling throughout the U.S., seeing much of this great country. Additionally, he enjoyed swimming, football, ping pong, horseshoes, hunting, cars, yard work and flowers. He was a member of the Foremans and Diamond Clubs at his work and also a member of the Fraternal Order of Eagles. He was very proud of his service in WWII and he continued to honor the American Flag everyday by flying it with salutes and military folding.

Robert passed away on November 27, 2008, and was buried in the Mufflin Cemetery, Gahanna, OH. I want to thank Robert's daughter, Debbie, for providing the materials for this tribute.