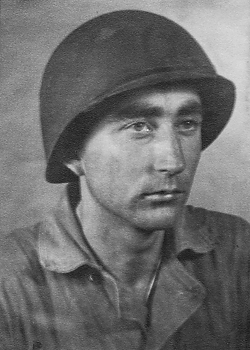 W.R. Parks
Biography: W. Ray Parks was born on March 8, 1921, in Lipan, Texas. He was the son of William Wiley Parks and Hannah Bell Furlow and attended local schools, completing the 8th grade. After leaving school, Ray worked as a musician and a chipping-gun operator in the Oakland, California, shipyards.

Service Time: Ray entered the service on May 10, 1943, from Sacremento, California. He was assigned to Company B, of the 137th T.D.T.B. (Tank Destroyer Training Battalion), 4th Regiment, T.D.R.T.C. (Tank Destroyer Replacement Training Center). The Center was located at North Camp Hood, Texas and while there, he received a post card from his sister, Otis.
Ray shipped out and was assigned to Company B of the 813th Tank Destroyer Battalion, probably joining them when they were in the United Kingdom, or just prior to them moving there. The 813th had already served in North Africa and Italy before shipping to England, in November of 1943. The unit landed at Utah Beach in late June of 1944, joining the drive to Le Mans and then north to Alencon at the Falaise Gap. It was during this time, while in France, that Ray was wounded and eventually shipped back to the U.S. for additional treatment. He ended up at Madigan General Hospital, which is part of Fort Lewis, located near Tacoma, Washington. After a period of rehabilitation, Ray left the service at the rank of Private. He was awarded the Purple Heart for the wounds he had received.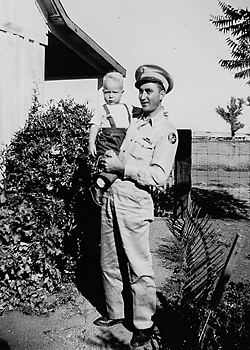 The photo on left shows Ray holding his stepson from his first marriage. That marriage ended shortly after he completed his rehabilitation. In 1946, he married the former Carol Jean Jones in Reno, Neveda. She was born in Sterling City, California, and was the daughter of Clyde Leslie Jones and Francis Muriel Sheeley. The couple made their residence in Chico, CA.
Ray found work as a farm equipment operator and part-time musician. He also had a 20 year career with the U.S. Postal Service. The couple had five children, Michael, Kenneth, Judith, Darren and Paula, who they called Christy after her middle name. In his spare time, Ray enjoyed woodworking and music. He passed away on July 23, 1984, and was buried in Glen Oaks Memorial Park in Chico, CA.
I want to thank Ray's son, Michael, for supplying the photos and information for this tribute.