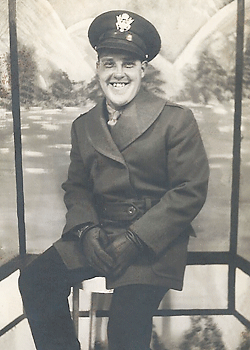 Herbert A. Pratte
Biography: Herbert Arthur Pratte was born on February 18, 1916, in Norwich, Conneticut. He was the son of Charles F. Pratte and Audella Brown Pratte and graduated from Warren High School, in Warren, Rhode Island. He was a New England Golden Gloves, Bantamweight, Champion at the age of sixteen. His twin brother, Henry, was also a boxing champion. He eventually turned professional but retired at the age of nineteen. His enlistment record states that he worked as a salesman prior to entering the service and joined the National Guard in 1940.

Service Time: Herbert enlisted on February 24, 1941, at Providence, RI. He was chosen to attend Officers Candidate School at Camp Hood, Texas, and graduated with Class #9 on December 11, 1942. On that same day, he was discharged and reentered the service as a 2nd Lieutenant. The main photo for this article was taken on December 28, 1942, which would have been just a few weeks after his graduation. He is also shown in an Officers Group photo listed in the "Units – 628th" section of the site.

On November 13, 1943, he was promoted to 1st Lieutenant and served as the Platoon Leader for C Company of the 628th Tank Destroyer Battalion. During the unit's training, Herbert distinguished himself by attaining Expert Ratings with the M1 Rifle, the Carbine, and the Light Machine Gun. He received Sharpshooter Ratings for both the 45 Cal. Pistol and the Thompson Sub-Machine Gun. As a child, he learned to play the banjo and his love of playing continued throughout his life. His skills with the banjo were a source of entertainment and encouragement throughout the unit's training.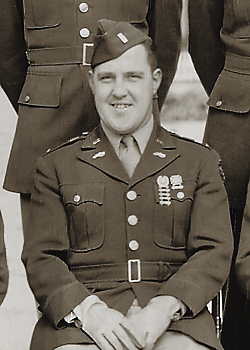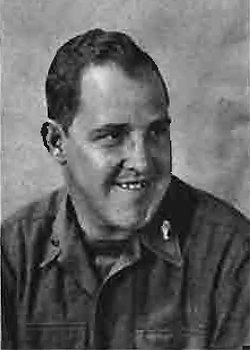 Herbert continued with the 628th, receiving credit for each of the units four campaigns, Northern France, Rhineland, Ardennes-Alsace and Central Europe. It was during these campaigns that he was wounded twice, once on December 6, 1944, while in the Hürtgen Forest, and again on April 3, 1945. Herbert left the service on December 13, 1945, at Fort Devens, MA. He received a Purple Heart with Oak Leaf Cluster, the Bronze Star, and the EAME Medal.
Herbert returned to the U.S. and went home to Warren. He married the former Mildred T. Moseley in September of 1949, and the couple had two daughters. He worked for the New England Telephone and Telegraph Company and was involved in local politics as well as being the VFW Post Commander for Post #122 in Warren. He also served as Memorial Day Parade Marshal for the town in 1972.
Warren RI, Times-Gazette, May 24, 1972
Herbert A. Pratte Tribute – by Rita D. Pratte-Alderson
Herbert's older brother, Captain Charles F. Pratte Jr., served in the 7th Army Air Force during WWII in the Pacific Theatre. He never returned home from one of their missions and was declared Missing In Action.
Herbert passed away on October 25, 2000, at the age of 84. At the time of his death, he had six grandchildren, and one great-grandchild. I want to thank his daughter, Rita, for the information and photos of her father used in this tribute.