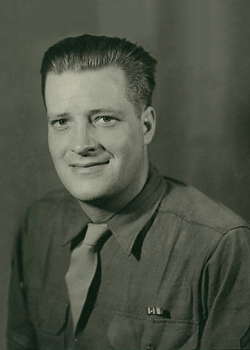 Asal J. Prescott
Biography: Asal "Ace" Jay Prescott was born on July 9, 1921, in Burley, Idaho. He was the son of Leslie John Prescott and Ellen Tippets and attended local schools in Georgetown, Idaho. After leaving school, he worked as a farm hand.
On April 10, 1943, Asal married the former Marie Anne Payne in Belton, Texas. She was the daughter of Charles Harvey Payne and Sophia Anne Hosea. Marie was born in Johnstown, Colorado. The couple made their home in Pocatello, Idaho. Asal carried a copy of the couple's wedding photo his entire life.

Service Time: Asal enlisted in the Idaho National Guard from Pocatello, Idaho, on January 23, 1941, and was assigned to the 183rd Field Artillery Battalion. He was placed on active duty on April 1, 1941, at the rank of Private, and sent to Fort Francis E. Warren, Wyoming, for further training. Upon completion of his training, Asal was assigned to the 76th Anti-Tank Battalion. The battalion convoyed roughly 1200 miles in September 1941, from Fort Warren, WY to Fort Lewis, Washington. Asal's duty post was at nearby Camp Murray. While there, the 76th Anti-Tank Battalion was re-designated as the 776th Tank Destroyer Battalion. Asal was assigned to the Reconnaissance Company, 776th Tank Destroyer Battalion. On March 5, 1942, Asal was promoted to Private First Class.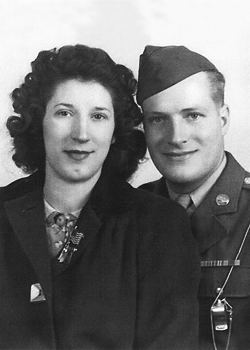 On May 1, 1942, Asal received his rating as Sergeant IV Communications, and on May 21, 1942, he received orders to proceed to Camp Chaffee, Arkansas. He became a member of the initial cadre that formed the 817th Tank Destroyer Battalion. He was assigned to Company B and departed Fort Lewis on May 28, 1942, by train, and arrived at Camp Chaffee on June 2, 1942. The unit shipped to the ETO from the Boston Port, arriving in Scotland, on July 31, 1944. They landed on Utah Beach on August 25 and began security duties in areas of France and Belgium.
The 817th first saw combat in the Hürtgen Forest and then moved into the Ardennes. They provided artillery support near the Roer River and moved with the advance to the Rhine River, finally crossing the Remagen bridge on March 15. After converting to M18's, they joined the 104th Inf. Div. at the Ruhr Pocket in April. Two companies of the unit moved east, fighting in the Harz Mountains, and helped capture Halle before reaching the Mulde River.
Staff Sergeant Asal Jay Prescott was honorably discharged on October 14, 1945, at Fort Logan, CO.
Asal returned to the U.S. and started his own floor covering and kitchen remodeling business. He later worked at the Bannock County Courthouse & Bannock Memorial Hospital as Facility Manager. The couple had five children, three girls and two boys. In his spare time, he enjoyed fishing and hunting. He was a member of the Veterans of Foreign Wars, the Benevolent and Protective Order of Elks, Fraternal Order of Eagles and the Pocatello Rod & Gun Club.
Asal passed away on January 15, 1980, and was buried in Georgetown Cemetery in Georgetown, Idaho.
I want to thank Asal's son, Brad, for the information and photos of his dad and family.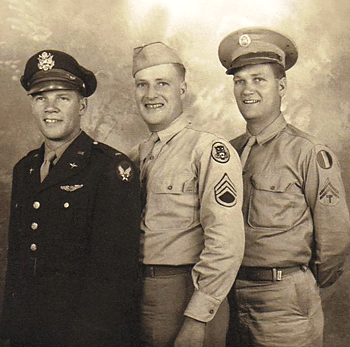 Asal is shown with his brothers, Leslie Alma on left and Reuben Leslie on right, and all were on active duty during WWII. Another brother, Wallace Argyle served in the South Pacific as a tank driver. In addition to these brothers, three more brothers enlisted in the Air Force after the war.