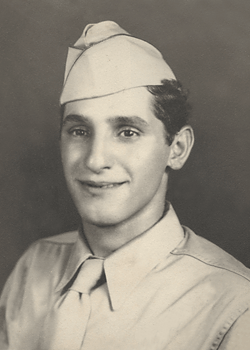 Anthony C. Picarello
Biography: Anthony C. "Tony" "Pic" Picarello was born on February 1, 1923, in Peekskill, New York. Tony attended local schools through the 11th grade. His enlistment record identifies that he worked in the textile industry prior to the war.

Service Time: Tony entered the service on May 12, 1941, at New York City. He was assigned to Company C of the 893rd Tank Destroyer Battalion and was stationed with the unit at Camp Shelby, Mississippi. During this time the unit participated in the Louisiana Maneuvers.
After arriving in England in January, 1944, they prepared for the Normandy landings. The 893rd landed on July 1, in France, equipped with M10's, and saw their first action at St. Jean de Daye. Moving to Paris by the end of August, they continued onto the Siegfried Line and supported the 28th Infantry in the Hürtgen Forest. The unit held defensive positions in January, before moving in support of the 78th Infantry Division and helping capture the Roer River dams in February. The offense continued across the Roer toward the Rhine River, which they crossed in early March, moving northward to attack enemy forces at the Sieg River. Their last offensive actions were against the Ruhr River Pocket in April.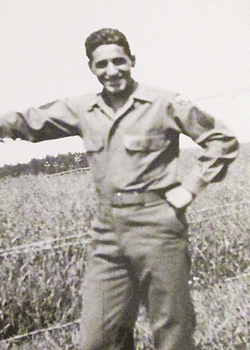 Tony received credit for the campaigns of Normandy, Northern France, Central Europe and Ardennes-Alsace. He received a Bronze Star, the Good Conduct Medal and the European-African-Middle Eastern Service Medal. He left the service at the rank of Technician, 4th Grade. In addition to Tony, his older brother, Carmine, served in an Army Medical unit, and his oldest brother, Sammy, served in the Navy.
Tony returned to New York and worked for the N.Y. Central Railroad as a machinist. He remained with the railroad for more than 40 years, retiring in 1983. On September 21, 1947, he married the former Priscilla Marallo. The couple made their home in Peekskill, NY, and raised two daughters, Linda and Donna. He was a member of the Church of the Assumption in Peekskill, the VFW and the Peekskill and Ossining, NY, chapters of the American Legion. He was also a member of the Peekskill Fire Patrol for 50 years.
Tony died on March 3, 2007, at the age of 84. He is survived by his wife, two daughters, two grandchildren and one great-grandchild. I want to thank Tony's granddaughter, Tina, for her assistance with this tribute.