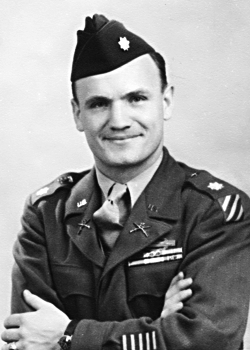 Michael Paulick
Biography: Michael "Mike" Paulick was born on September 21, 1915, in Tide Dale, Pennsylvania. He was the son of Slovakian parents, Paul and Mary Paulick, who had immigrated from Bekescsaba, Hungary. He graduated from high school in Bethel Township, PA, and was Valedictorian of his class. He was very athletic and participated in both varsity baseball and football. Mike worked as a miner for a short time before going into military service.
Service Time: Mike enlisted in the Coast Guard and was assigned to the 36th Coast Guard Artillery. His sights were set on becoming an officer, which would take an incredible amount of work. He studied during 1935 and 1936 and entered West Point that same year with a Congressional Appointment. While there, he distinguished himself as conscientious and a capable leader, rising to the position of editor-in-chief of the school's Howitzer yearbook and playing football all four years. He graduated in 1940 and was commissioned as a 2nd Lieutenant.
Mike entered the service and was ultimately assigned to the 601st Tank Destroyer Battalion. In May of 1942, while stationed at Camp Blanding, Florida, he was promoted to Captain and would assume command of the unit's Reconnisciance Company. Mike would lead his men in the landings at Arzew, Algeria, in North Africa and participate in the defeat and encirclement of the garrison at Oran. They also took part in the Battle of Kasserine Pass in February, 1943, and at El Guettar in March. During his time with the unit, he received the Silver Star for conspicuous gallantry and intrepidity in connection with military operations against the enemy and a second award of the Silver Star, signified by the award of an Oak Leaf Cluster.
On November 11, 1943, he left the unit and was assigned to Command the 1st Battalion, 15th Infantry Regiment of the 3rd Infantry Division. During this transition, on November 25, 1943, while in Italy, Mike married the former Gladys Opal Romohr who was from Gresham, Nebraska, and was the daughter of Mark A. and Stella M. Romohr.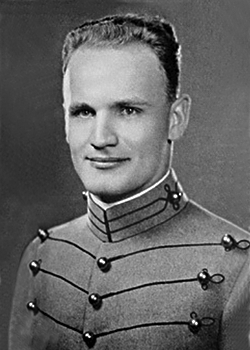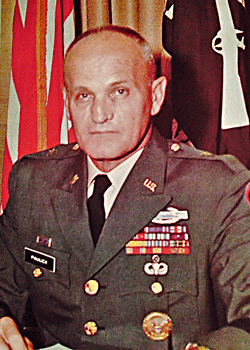 The 15th Infantry Regiment was battling against the German Cassino Line in Italy, at the time. During his first tour of inspection, he met Audie Murphy, who was a Sergeant of Company B. Their paths crossed again when Mike recommended him for a field promotion which Audie refused.
Captain Paulick again showed his character against enemy forces on January 30, 1944. The following Citation relates to his award of the Distinguished Service Cross.
Distinguished Service Cross – Citation
While the unit was in the area of the Vosges Mountains of France, Captain Paulick asked the Company B Commander for a patrol to check out an observation point overlooking Cleurie Quarry. Sgt. Murphy's platoon was tasked to supply personnel to protect the patrol. When machine-gun fire rang out from a German outpost and pinned the patrol down, Sgt. Murphy called to each of his men to identify their positions and quickly took charge of the situation, tossing a series of grenades into the outpost and ultimately killing or wounding the enemy soldiers and eliminating the threat.
Mike saw the leadership displayed in Sgt. Murphy and recommended him for promotion a second time, insisting this time that he accept. Mike's knowledge of Audie Murphie's military service was used after the war when he worked as one of two technical advisers for the autobiographical movie about Audie Murphy, "To Hell and Back", released in 1955. The following document was written by Colonel Michael Paulick about some of his experiences with Audie Murphy.
A Story Audie Murphy Never Told – by Michael Paulick, Colonel, Infantry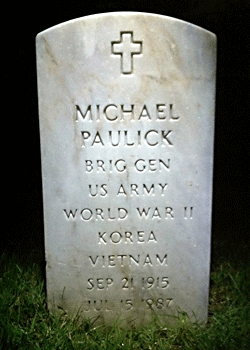 During his time with the 15th Infantry Regiment, Captain Paulick also received a second Oak Leaf Cluster designating his award of a third Silver Star. He was also awarded the French Croix de Guerre with Gold Star, the French Fourragere with Colors of Croix de Guerre with Palm. Mike was severely wounded on March, 1945, while in operations against the Siegfried Line. which required a 13 month recovery.
After WWII, Mike stayed in the Army and had a distinguished career extending into the Korean and Vietnam conflicts. His positions include being the Commanding Officer of the 325th Airborne of the 82nd Airborne Division; Commanding Officer, 10th Special Forces Group (Airborne); Director of Airborne-Air Mobility Department; Assistant Division Commander, Combat Operations, 7th Infantry Division of the Eighth Army. Mike retired at the rank of Brigadier General, U.S. Army.

Mike and Gladys had six children. Mike passed away on July 15, 1987, and was interred in the Arlington National Cemetery, Arlington, Virginia.
I want to thank Mike's nephew, Michael, for providing the information and photos for this tribute. The West Point photo is used by permission, of Digital Data Online, Inc. and E-Yearbook.com.