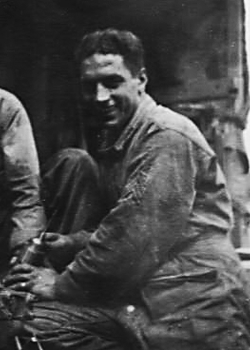 Dominec M. Padula
Biography: Dominec M. Padula was born on February 23, 1919, in Bellwood, Pennsylvania. He was the son of Michele Padula and Rosa Romano and attended Bellwood-Antis High School, graduating in 1938. After graduation, Dominec worked for the Pennsylvania Railroad. On November 6, 1943, he married the former Evelyn Snyder, who was from Bellwood, PA, and was the daughter of Edwin Snyder and Helen Lackov.
Service Time: Dominec entered the service and was assigned to the 629th Tank Destroyer Battalion, which shipped from the New York port on January 1, 1944. They arrived in Dorset, England, on January 8, and began preparations to land in France. The 629th disembarked at Omaha Beach on July 2, with M10s and performed artillery missions in the Caumont sector.
They then joined the 30th Infantry Division fighting at Mortain in early August and supported the reduction of the Falaise Pocket. Participating in the V Corps parade through Paris on August 29, they then advanced to Luxembourg by early September and supported operations in the Hürtgen Forest against the Siegfried Line.
The unit shifted to the Ardennes sector on December 24, and fought to eliminate the Bulge in January 1945. They joined the renewed assault on the Siegfried Line in February before crossing the Rhine River and into the Remagen bridgehead on March 11. The 629th converted to the M36 in March also. With their upgraded destroyers, they participated in operations against the Ruhr Pocket in April and then conducted a road march south to Bavaria, reaching the Isar River before ending offensive operations.
At some point, Dominec was transferred to the 823rd Tank Destroyer Battalion, probably occuring after the units began occupational duties. He received credit for each of the 629th's campaigns of Normandy, Northern France, Rhineland, Ardennes-Alsace and Central Europe. He also received the Good Conduct, American Theater and the EAME medals. He left the service at the rank of Technician 4th Grade.
Dominec returned the the U.S. and went back to work for the Pennsylvania Railroad. In his spare time, he enjoyed gardening and woodworking. He and Evelyn had two sons, Michael, born in 1946, and David in 1955. Dominec passed away on May 5, 2008, and was buried in Bellwood.
On October 23, 2015, the State of Pennsylvania dedicated the Dominec M. "Patsy" Padula Memorial Bridge, located in Bellwood (near Altoona). The bridge spans the main Norfolk-Southern New York to Chicago rail line. Attending the ceremony, along with family and friends, were Senator Eichelberger and local Representatives Judy Ward and John McGinnis.
I want to thank Dominec's sons, Michael and David, for providing the information for this tribute.