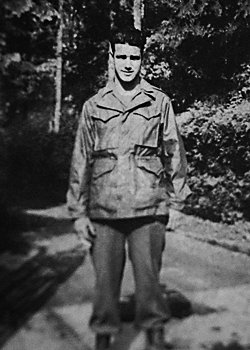 James V. Pimental
Biography: James Vieira Pimental was born on May 17, 1921, in Fall River, Massachusetts. He was the son of Jesse Pimental and Maria Vieira and attended local schools through the 9th grade. He initially worked as a truck driver, picking up produce from the docks and selling it in his community. He later worked for Anderson Little in their textile factory. James was quite athletic and played amateur baseball in a local league.
Service Time: James entered the service on September 16, 1942, at Boston, Massachusetts. After completing basic training and while on leave, he married the former Blanche Cora Thibault, who was also from Fall River, and was the daughter of Baptiste Thibault and Cora Gaudette. When James returned, he was assigned to Company B of the 825th Tank Destroyer Battalion.
The 825th was originally trained with self-propelled tank destroyers but in July of 1943, they were reorganized as a towed battalion utilizing the 3″ gun. The unit received training at a number of facilities, including Camps Bowie and Hood, Texas, and Camp Phillips, Kansas. Due to the critical shortage of civilian workers, the unit was sent to Fargo, North Dakota, to assist with the harvesting of the wheat crop. Their work produced enough wheat to supply a loaf of bread to every man, woman, and child in the United States.
The 825th continued their training back at Camp Phillips, but moved to Galatin, Tennessee, to participate in winter maneuvers held in designated areas throughout the state. They proceeded to Camp Campbell, Kentucky, in January 1944, and remained there until March, when they were sent to Camp Breckinridge, Kentucky. On May 25th, they boarded trains and arrived at Camp Kilmer, New Jersey, in preparation for shipment overseas. They left the New York port on May 30, 1944, and arrived in England on June 5th.
After arriving in France, they were initially assigned to the Communications Zone of the 12th Army Group and took on security duties between August and December 1944. On December 17th, the battalion entered combat near Malmedy, Belgium, but returned to security duties less than a month later on January 16, 1945. The 825th received credit for participation in the campaigns of Ardennes-Alsace, Central Europe, Rhineland and Northern France. At some point, James was reassigned to an infantry unit and was shot in the knee. He received a Purple Heart and left the service at the rank of Technician 5th Grade.
James returned to Fall River and found work at the NUSC (Navel Undersea Systems Center) in Newport, Rhode Island. The NUSC built and tested torpedoes for the military. James' uncle Joe also worked there. Joe had also served in WWII but had been separated from his unit (considered AWOL) and missed their ship going overseas. He was put under military arrest and when he was released, was sent to a prisoner of war camp to guard German prisoners.
James and Blanche started a family, having a son, James Jr., born in 1946 and a daughter, Janice, born in 1949. In his spare time, he enjoyed model making and watching professional baseball. James was also a member of the St. Anthony de Padua Church. He passed away on June 10, 1954, and was buried in the Notre Dame Cemetery in Fall River.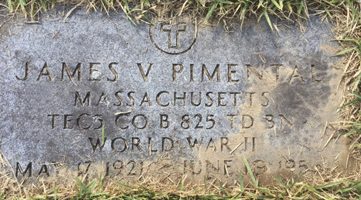 I want to thank James' son Jim, for providing the photo and information for this tribute. Thank you to Find A Grave contributor, Donna Magner, for the use of the grave marker photo.