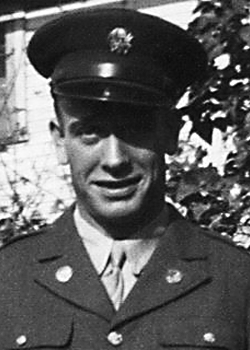 Raymond H. Petty
Biography: Raymond Harley Petty was born on February 14, 1916, in Ohio. He was the son of Edward and Lucinda Petty and attended local schools through the grammar level. He worked in the foundry of the Ralston Steel Car Company, which manufactured rail cars.
Service Time: Raymond entered the service on March 26, 1943, at Columbus, Ohio. On September 25, 1943, while on leave, Raymond married the former Mildred Marie Ritchie who was born in Marietta, Ohio, and was the daughter of Joseph William Ritchie and Bertha Marie Baker. The couple made their home in Columbus, Ohio, and had one daughter, Mildred Anne Petty, born in 1943.
Raymond was assigned to the 823rd Tank Destroyer Battalion, which shipped out from the Boston port on April 6, 1944. They arrived in England on April 17, 1944, and then landed at Omaha Beach in Normandy, France, on June 24th with towed 3-inch guns. They supported the drive on St. Lô and fought at Mortain in August. They then passed through Belgium and Holland, entering Germany on September 17th. The 823rd fought along the Siegfried Line in October, including the encirclement of Aachen and converted to M10 tank destroyers beginning in November.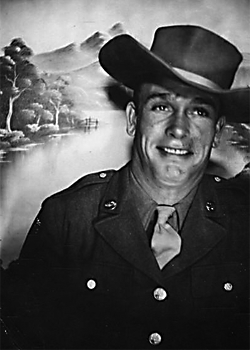 With the start of the 30th Infantry Division's push toward the Rur River, training on the new TDs was discontinued and A, B and C companies were assigned as necessary to support the drive. Company B attached to 120th Infantry Regiment except for B-2, which was attached to Division Artillery.
On the afternoon of November 16th, following a large scale bombing of the area, the units attacked and were able to seize Mariadorf and Euchen, Germany. The soldiers dealt with mines and booby traps as well as enemy artillery which grew in volume and intensity. At some point, Pvt. Raymond H. Petty was severely wounded and later died of his wounds. He received the Purple Heart postumoustly. He was ultimately brought home and buried in Beckett Cemetery in Commercial Point, Ohio.
I want to thank Raymond's granddaughter, Judi, for providing the photos and information for this tribute.