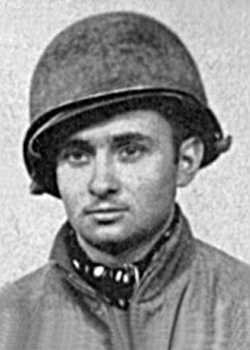 Frank Panebianco
Biography: Frank Panebianco was born in 1919, in San Donato, Italy. He is the son of Samuel (Saverio) and Rosalie Panebianco and attended local schools through the grammar level. His family had come to Greensburg, Pennsylvania from Italy in 1936. Rosalie had passed away so Frank had one brother Joseph that had come to the U.S. but his sister Rosalie, stayed in Italy with her mother's parents.
Samuel then married a woman named Telsomnia and they would have five more children, Angeline, Rosalie, Ellen, Frances and Frederick.
Frank worked for the Patragen Store in Derry, PA, which did tailoring and later worked for Bisignant and Marzani, which was also tailoring busniess, but in Greensburg.
Service Time: Frank entered the service on March 27, 1942, at New Cumberland, PA. He was sent to Pine Camp, New York, where the 704th Tank Destroyer Battalion had been activated on December 15, 1941. He was assigned to Company C and received additional training with the unit at Camps Hood and Maxey, Texas, and was finally sent to Camp Mile Standish, Massachusetts, for final preparations before going overseas.
The unit shipped out from the Boston port on February 27, 1944, and arrived in Liverpool, England, on March 13th. For the next four months, they received additional training in the United Kingdom. They then boarded LSTs and landed at Utah Beach on July 12th and 13th. They were first unit in the ETO (European Theater of Operations) to be equipped with M18 tank destroyers and participated in the Cobra breakout at the end of month. They advanced into Brittany and then raced east across France, passing north of Orleans, crossing the Moselle River to Luneville in early September. They remained in the general area through October.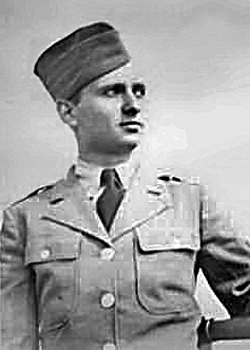 The 704th then fought in the Morhange region in November. On the 11th, Cpl. Frank Panebianco was killed in action. One account says that his death was the result of a grenade thrown into the turret of his TD. The unit records mention that one platoon of C Company was attached to the 37th Tank battalion and were under heavy shelling near Obreck. The platoon leader and six enlisted men were killed and seven were wounded during the action. Only eight men were listed as being killed during that month. It is interesting to note that November 11th was also Armistice Day, commemorating the day the fighting ended in WWI.
Obituary – Greensburg Daily Tribune Dec. 2, 1944
Frank was buried in Plot A, Row 19, Grave 19 of the Lorraine American Cemetery in Saint-Avold, France. He received the Purple Heart.
I want to thank Frank's sister Frances, for her assistance as well as Erwin Derhagg and Joel Gilfert for providing materials and information for this tribute. Erwin is from the Netherlands and has his own website honoring the men of the 6th Armored Division that are buried or listed on the "Walls of the Missing" in both overseas and U.S. cemeteries. If you have a moment, you can check out his site here. I also want to thank the personnel at the Lorraine American Cemetery for providing the photo of Frank's grave marker.