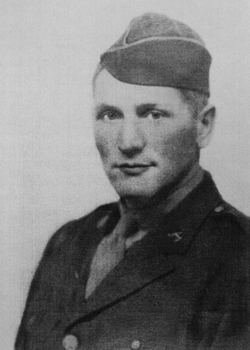 Melbourne E. Pawley
Biography: Melbourne Emil Pawley "Mel" was born on October 23, 1919, in Mackinac County, Michigan. He was the son of Albert A. Pawley and Charlotte Ann Durno and attended local schools through the 11th grade. After leaving school, he worked in some type of machine shop occupation prior to the war and was living in Seney, MI.
Service Time: Mel entered the service on March 16, 1942, at Fort Sheridan, Illinois. He was assigned to Company C of the 705th Tank Destroyer Battalion and eventually served as a TD Commander in First Section, Section Platoon. He trained with the unit at Camp Cooke, California, Camp Hood, Texas, Camp Adair, Oregon, Fort Lewis, Washington and finally Camp Shanks, New York. During his time at Camp Cooke and the Desert Training Center, Mel was promoted to Corporal.
Promotion to Corporal – July 27, 1942
They shipped out from the New York port on April 18, 1944, aboard the Queen Elizabeth, and arrived at Gourock, Scotland, on the 27th. After some additional training and final preparations, they boarded transports and landed at Utah Beach on July 18th, equipped with M18 tank destroyers. They joined the Cobra breakout and swept through Brittany to Brest, France, in late July and early August. During the siege at Brest, Mel was wounded and received a Purple Heart.
V-Mail – August 24, 1944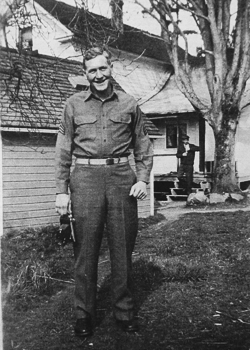 The 705th helped clear the Crozon Peninsula into September and moved across France in October to the Moselle River. Advancing to the German border at Kitzing in mid-November, they shifted north to the Aachen area in early December. When the German Ardennes offensive started, they moved to Bastogne, Belgium, where their TD's participated in the famous defense of the town by the 101st Airborne Division.
On December 24th, Sgt. Melbourne E. Pawley and his TD, "Hell's Angels" was positioned at Foy, on the Bastogne defensive perimeter, when he was killed by strafing fire from an American P-51 Mustang. He posthumously received the Oak Leaf Cluster, designating his second award of the Purple Heart.
Mel was originally buried in the American Military Cemetery of Grand-Failly, France, Section H, Row 12. Grave 291. The cemetery is located 53 miles south of Bastogne. In 1948, the bodies were relocated to other cemeteries and Mel was reinterred in the Luxembourg American Cemetery, Canton de Luxembourg, Luxembourg, Plot F, Row 5, Grave 17.
I want to thank Mel's niece, Lois Wick, and her husband, Jim, for providing the photos and information for this tribute. I also want to thank Margo Reasner for the grave marker photo.