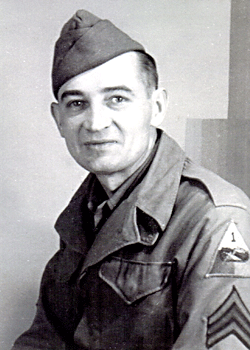 George E. Popeck
Biography: George E. Popeck was born on August 3, 1910, in Westland, Pennsylvania. He was the 5th of 11 children born to Joseph John Popeck and Mary Barbara Wojnar and attended local schools through the grammar level. He found work as a plasterer, and prior to the war, was self-employed at that profession.
Service Time: Much of the information about George's time in the service is taken from letters he wrote home to his family. George entered the service on March 26, 1942, at New Cumberland, PA, where he and the other men were provided with new uniforms, including high top shoes and breaches, which he felt made them look like cowboys. After a brief stop in Pittsburgh, they continued by train through Ohio and onto Fort Riley, Kansas. Three others from George's home town, Canonsburg, were still with him when they arrived. Their names were Pagano, Koyancheck and McCullough.
At Fort Riley, he was assigned to Troop C of the 5th Training Squad at the CRTC (Cavalry Replacement Training Center). It was not long before he was doing full Army duties including KP, washing dishes and scrubbing floors and tables. Drills started at 4:00 am in the morning and would last till after 8:00 pm. They received training to shoot on the range as well as training on 2-1/2 ton trucks and loads of materials to read and learn. They were only shown once how to disassemble a weapon and were expected to know all the parts and how to reassemble them. In addition to their training, they also took care of 104 horses which included cleaning the barns.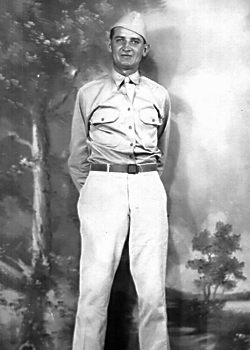 George left Kansas for Camp Gordon, Georgia, on June 2, 1942, arriving on the 5th. He was then assigned to Company B of the 692nd Tank Destroyer Battalion. It was around this same time that he learned two of his brothers were required to register for service. He mentions that many troops were leaving for maneuvers in North Carolina while he remained in camp, guarding prisoners. By August, he had turned in his cavalry uniform for one better suited to riding in a tank destroyer. He also qualified as a sharpshooter with the .45 cal. pistol.
He was chosen as the acting Corporal while on guard duty and given a Jeep, which he named "Peep". Training in the tank destroyers would intensify and many of the men were given furloughs. George got his time off in October but was soon on his way back to the unit. He was put in charge of 96 new recruits, getting them their equipment and drilling one squad. By November, he was promoted to Private First Class and only McCullough was still with him. Another furlough came after Christmas but he had to get rid of all personal items as he would soon be shipping out. He served again as acting Corporal and was sent to radio school for training.
It was early in 1943 that George finally shiped out, arriving in North Africa between February 25th and March 1st. By April, he was assigned to Company C of the 701st Tank Destroyer Battalion, which had participated in actions at El Guettar, Faid Pass, Sidi Bou Zid, Sbeitla, Hill 609, and Mateur. George mentioned that there was still artillery fire in the area. The 701st had been in North Africa since December and had taken part in the Operation Torch landings.
By this time, George was riding in a TD and seeing mostly mountains and Arabs riding camels. He couldn't understand the languages, which were mostly French and Arabic. The Germans had placed many landmines so that was a constant concern. By June, hostilities had slowed enough that the men were able to do some site seeing of the local ruins at Dougga. They even did some sun bathing in Bizerta, Tunisia, but they were not allowed into any of the towns and the weather was hot with no trees for shade.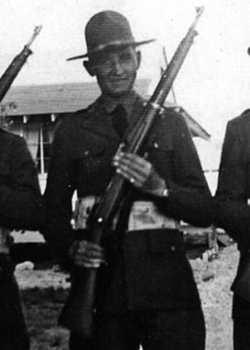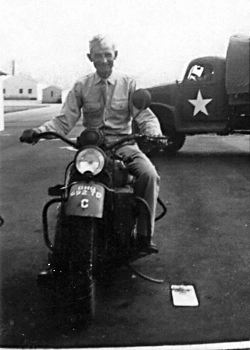 Due to military operations, he wasn't able to share much information. By November,George was in Italy which he liked much better. He couldn't understand the language but the people were friendly. George was concerned about his three brothers which were all overseas at this point. His letter from January of 1944 has him listed as Sgt. Popeck so he must have been promoted recently and was a Platoon Commander. In March, he mentions that they were on Anzio Beach but had spent some time on the Cassino and Cosero fronts. His letters were labeled 2628th Hospital Section where he was laid-up for stomach trouble, yellow jaundice or something. He was still in the hospital in early June but was out soon after. He had a three day leave, which he spent in Rome and by late summer, they were helping to care for and feed the displaced Italian people.
For many months, he was very busy and felt that the sensors would cut out any mention of their activities anyway. On March 5, 1945, Sgt. George E. Popeck was in action in the vicinity of Castel D'Aiano, Italy. He observed an infantryman fall wounded and volunteered to retrieve the man. He dismounted his TD and, although they were under a heavy mortar barrage, left his position of relative safety and rendered first aid to the man and carried him to safety. For these actions, he was awarded the Silver Star.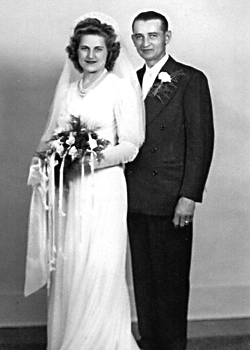 When he was finally released to ship home, it became a 36 hour ordeal with stops in Africa, Brazil and South America. He arrived back in the U.S. on August 10, 1945, and received credit for five campaigns in Tunisia, Naples-Foggia, Rome-Arno, Northern Apennines and Po Valley. In addition to the Silver Star, he was also awarded the EAME Ribbon and the Good Conduct Ribbon. He left the service on August 15th at the Indiantown Gap Military Reservation in PA.
George returned to his former profession as a Plasterer and on May 26, 1946, he married Mary who was born in Midland, PA. The new couple made their home in Canonsburg, PA, and had four daughters, Carolyn, Phyllis, Adela and Natalie. In his spare time, he enjoyed hunting, fishing, gardening and card games. He was also a 40 year member of the Operative Plasterers & Cement Masons International Association of the U.S. and Canada.
George passed away on July 20, 1985, and was buried in the Sacred Heart of Jesus Polish National Catholic Church Cemetery in Canonsburg. I want to thank George's daughter, Phyllis, and her family for providing the information and photos for this tribute. Thank you also to Kenneth Neundorf for the use of the grave marker photo.