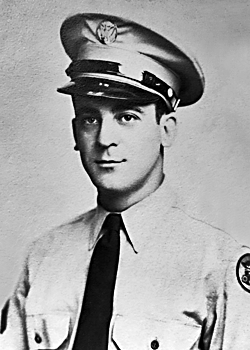 Pietro A. Quattraccione
Biography: Pietro A. Quattraccione was born on April 10, 1918, in Philadelphia, Pennsylvania, to Dominic and Concetta D'Antonio Quattraccione. His parents were immigrants from Italy and worked hard to support their family. In addition to Pietro, Dominic and his wife had another son, Joseph and five daughters. Pietro attended local schools through the 8th grade.
Service Time: Pietro entered the service on July 24, 1942, at Philadelphia, PA. After his basic training, he was assigned to A Company of the 692nd Tank Destroyer Battalion and trained with them in the U.S. In March of 1944, while still in the U.S., the unit was converted to a towed anti-tank gun battalion.
They shipped out from the New York port on September 12th and arrived in England on the 23rd. They almost immediately left for France, arriving at Cherbourg on the 25th. The 692nd entered the line near Wustwezel, Belgium, on October 28th and fought along the Siegfried Line, in the vicinity of Stolberg, beginning in November. They occupied defensive positions along the Roer River during the Battle of the Bulge and then converted to M36 Tank Destroyers in February 1945. They supported the drive from the Roer to the Rhine River in late February and early March, and then helped capture Cologne.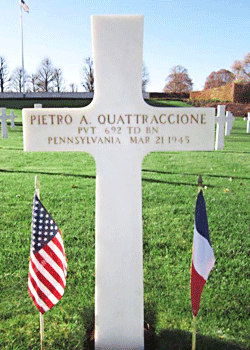 On March 21st, the unit joined the 42nd Infantry Division, with the mission to breach the Ziegfred Line. It was on this same day that Pvt. Pietro A. Quattraccione died from non-battle circumstances, which could have been illness or an accident not linked directly to the enemy.
Pietro was qualified to receive the EAME, WWII Victory, American Campaign and the Good Conduct Medals. He participated in the unit's campaigns of Rhineland and Ardennes-Alsace.
He was ultimately buried in the Lorraine American Cemetery at St. Avold, France, Plot A, Row 21, Grave 21. I want to thank Pietro's nephew, Pete, for providing the photos and information used in this tribute.
Pietro's brother, Joe, also served in WWII.