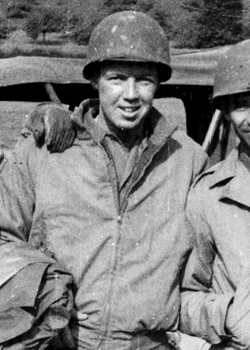 William J. Qualter:
Bill was one of only three men that I corresponded with that served in my father's unit. It was a privilege for me to have known him even if it was only for a short time. -Rob
Biography – William J. Qualter "Bill" was born on January 27, 1920, and was the son of Richard and Margaret Qualter and lived his entire life in the Chicago area. He attended St. Sabina grade school and Leo Catholic High school.
Bill's father passed away in 1940, so Bill and his younger brother Richard "Bud" took care of their mother for the rest of her life. Bill and Bud were very close, so close that when Bill was drafted, his brother enlisted.
Bud had spine problems and wasn't able to serve but worked

at the Pullman Aircraft plant.
Bill was drafted in April of 1943, and went into active service on May 7th and was sent Camp McCoy, Wisconsin, for basic training. From there he went to Camp Hood, Texas for about three months of continued training. He was assigned to the 6th Tank Destroyer Group, after they had completed their time at the DTC (Desert Training Center) and the same time that Clarence Mitchell and Royal E. Pascoe joined the unit. Bill was with them during the Louisiana maneuvers.
The unit was prepared for overseas shipment at Camp Kilmer, New Jersey, beginning on January 16, 1944, and shipped from the New York Port of Embarkation on the 29th, aboard the RMS Aquitania. They arrived in England on February 5th, and after assisting to prepare troops for the initial D-Day landings
Bill remembered being taken by truck to the south of England and that they had no difficulty landing in France on July 25th. There were still gliders in the trees and barrage balloons in the air. The gliders were used to quietly land troops in hostile areas and the barrage balloons were intended to stop low flying aircraft from shooting at ground target, specifically the allied troops that were landing. Bill had been trained as a radio operator but ended up promoted to Sergeant in the supply section of the unit.
The 6th initially acted as part of Task Force "A" of the VIII Corps of the Third Army, and took part in actions across the Brittany region of France on their way to the town of Brest. Beginning on September 5th, the unit supported XIII Corps of the Ninth Army, as their Anti-Tank section. They moved into Belgium on October 24th, and then into Holland on November 6th. The unit then moved into Germany on March 16, 1945, and took part in fast moving operations from the Rhine to the Elbe. While stationed in Holland, Bill met a 12 year old girl named Celine. He wrote a note with his address in Celine's diary and the pair would continue to correspond long after the war ended.
Bill remembered being in Saline, Germany, at the end of the war as well as being at Dachau, which was a Nazi Concentration Camp, where the unit performed security duties. He left the unit some after the war ended but he also remembered a soldier named Blake that spoke German. I cannot be sure but I believe this may have been Christopher Blake, who I was also able to correspond with.
The 6th received credit for the campaigns of Normandy, Northern France, Rhineland and Central Europe. Bill remained in the service until he was discharged in April of 1946.
After the war, Bill returned to Chicago and began a career as a fireman. On Saint Patrick's Day, March 17, 1953, Bill married the former Gina Tonelli "Jean" who was a widow with a son and daughter. Bill and Jean would have three more children, two sons and a daughter, bringing their total to five. Bill would also continue to care for his mother. He served at many different firehouses in Chicago and fought hundreds of fires until retiring in 1983.
In his spare time, Bill was a die-hard White Sox fan and enjoyed playing baseball and softball and competing in bowling leagues through the years. Many weekends were spent playing golf with his brother and sons. He loved his flower garden but his children, grand-children and great-grandchildren were his greatest joys. Sadly Jean passed away and Bill remarried
in 1994, to Nenita Esmundo "Nita" who he had met at daily Mass at Saint Christina's Church. The couple enjoyed traveling and were able to visit Nita's birthplace in the Philippines.
Bill was a part of the Little Flower, Saint Sabina and Saint Killian parishes and was a Eucharistic minister at the Saint Christina Church and an active member of the Knights of Columbus.
Bill passed away on December 14, 2006, and was buried in the Holy Sepulcher Cemetery in Alsip, IL. I want to thank Bill's daughter Peggy, for providing information for this tribute.
Research – One of the best memories I have from the many years of research was the day I was able to make contact with Bill. It happened one day while I was at work but it really started approximately six months earlier, when I had learned of a new book called "Justice at Dachau". The book focused on the lead prosecutor for the trials held at the Dachau Concentration Camp. I went to a website for the new book, hoping that I might learn something about my father's time at the camp. There was nothing on the website to help with my research but there was a forum area. At the time, I assumed the forum was to answer questions about the book but later I realized it was placed there for people to make comments about the book. In any event, I posted information about my father, name, rank, unit, etc. and asked if the book included any information about the period immediately after the war. I also included my email address. I never did get a response from the book's author but about six months later, I received a message from a Jos Cremers. He told me that his mother had been corresponding with a soldier from my father's unit ever since the war.
A portion of the 6thTD Group operated a Rest Center in the Heerlen area of Holland. The soldiers met many of the people in the area and it was then that Bill had met Celine, Jos' mother as a twelve year old girl at the time and Bill had written a short note in her diary, which included his address in Chicago. Jos gave me Bill's name and the city in which he lived, Chicago. Within about 15 minutes, I had Bill on the phone and I couldn't believe my ears, I was actually speaking with someone from my father's unit who may have known my father. It was too good to be true. We did speak for a few minutes at that time and he told me that he did know my father and that he was the go-to guy within the unit. When something needed to be done, he was the one who did it. I guess being dependable in time of war has an even greater value than in peace time. I must admit that at first I was skeptical of his memory of the personnel and general recollections of the time.
I made arrangements with him to send him some of the photos dad had brought home. He agreed to look them over and that I would later call him to discuss them. I sent them right off and numbered them with a duplicate copy for myself to go over them with him. I probably waited a week or more to make sure they had arrived and then I called him. If I remember correctly, he wasn't feeling the best so I ended up calling him back a few days later. We went over the photos, one by one, and he did his best to remember the men. Unfortunately he admitted that he did not recall many of them. He did recognize my father and surprisingly he recognized a photo of himself, standing next to Leo Levengood, who we had identified previously. Those two things in themselves made me feel good about his accuracy. I found out later that it was actually his oldest son that had recognized him in the photo.
I believe I spoke to Bill one more time after that but some time in June or July of 2009, I discovered that he had passed away. It made me sad to think that my one real connection to the unit was no longer there. This knowledge just made me more determined to find more connections, documents, photos, family members, and ultimately to create the site you now enjoy. One thing Bill did tell me that was somewhat discouraging was that at one time he had a written history of the unit but he had loaned it to someone who never returned it. That piece of paper would have been my Holy Grail. It could have possibly saved me countless hours of research but it would have made it too easy. Hundreds of phone calls and a multitude of hours on the Internet is a much better way to piece together such important events. Truman Alford mentions such a unit history in a document he wrote concerning the Brittany Campaign and Task Force "A". Hopefully someday I will come across the document…it will be a nice double check for the work I've done.