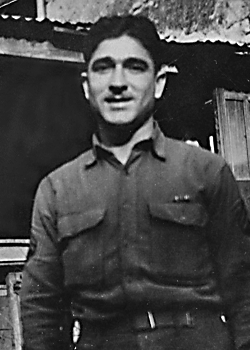 Julio L. Quaglia
Biography: Julio Louis Quaglia was born on May 16, 1915, in Birdsboro, Pennsylvania. He was the son of Pietro Quaglia and Maria Fontana and attended Reading High School through the 10th grade.
His parents, and older brother Gerlando, had emigrated from Arquata​ ​del​ ​Tronto, Ascoli​ ​Piceno,​ ​Italy,​ ​arriving​ ​in​ ​New​ ​York​ ​on​ ​January​ ​26,​ ​1914. After leaving school, Julio worked at the Quinlan Pretzal Bakery located in Reading.
Service Time: Julio entered the service on March 5, 1942, at New Cumberland, PA. After his basic training, he was assigned to Company A of the 631st Tank Destroyer Battalion and trained with them in locations such as Camp Shelby, Mississippi. His military specialty was TD Driver and during his training, he qualified as a Sharpshooter with the the M1 Garand Rifle, a Marksman with the Springfield Rifle and an Expert with the Carbine.
On January 16, 1943, while on leave from the unit, Julio married the former Irene G. Freed, who was also born in Reading, PA, and was the daughter of Wilson L. Freed and Martha I. Nice.
Julio shipped out with the unit, from the New York port, on July 26, 1944. They arrived in Gourock, Scotland, on August 5th, and at Utah Beach on August 31st. The unit was equipped with 3″ towed guns and performed rear-area duties in France, Luxembourg, and Germany for the duration of the war as part of Third Army.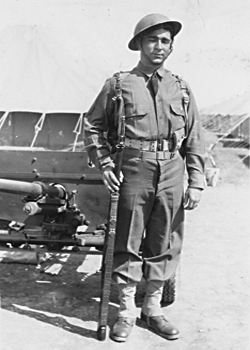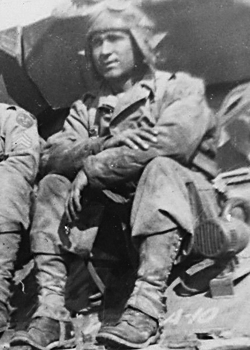 The photo at left was probably taken during his basic training while the photo at right was after he had been assigned to the 631st.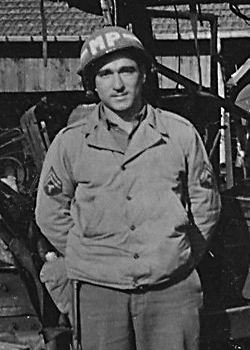 At some point, Julio served as an MP (Military Police) officer. This assignment may have been part of the unit's security duties. We do know that at least a portion of his service as an MP was done in Lens, France, and he was able to march in the Armistice Day parade on November 11, 1944, while in Ligny, France.
The 631st was re-equipped with M36 Tank Destroyers and were stationed at Lenggries, Garmisch and Bad Tolz, Germany, after the war. Julio shipped back to the U.S. on November 1, 1945, and arrived on the 13th. He received credit for the campaigns of Northern France, Rhineland, Ardennes-Alsace and Central Europe. He received the American Theater Service, the EAME, the WWII Victory and the Good Conduct medals. He left the service at Indiantown Gap Military Reservation in PA, on the 18th, at the rank of Technician 4th Grade.
Julio returned home to Reading and worked for the Maier's Bakery as an oven operator for 33 years before retiring in 1977. He and Irene had one son, Julio Jr., born in 1944. In his spare time, he served in the Oakbrook Fire Company and was a life member of both the Company and their Relief Organization.
Julio passed away on April 21, 1998, and was buried in the Berks County Memorial Gardens in Fleetwood, PA. I want to thank Henry Anderson for the military photos used in this tribute. I want to thank BillionGraves contributor Alsher for the grave marker photo. I also want to thank Julio's son, Julio Jr., for providing additional information about his father and for his service in Vietnam.
In addition to Julio, four other brothers, Jerry, Joseph, Jan and Jim, also served in WWII. They were all drafted together and, thankfully, all came home.