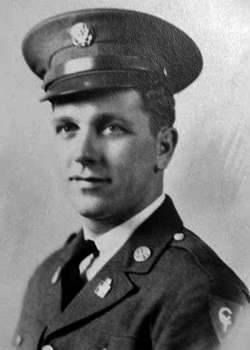 George Rinsema
Biography: George Rinsema, "Jud", was born on January 16, 1916, in Highland, Indiana. He was the first of six children born to Henry and Wilhemina Rinsema who were Dutch immigrants to the United States.
The family moved to Fremont, Michigan, when he was four years old. He attended Fremont Christian School through the 8th grade after which he began to work on the family farm. In 1930 the family moved to Griffith, Indiana.
Service Time: George enlisted in the Army on April 9, 1941, at Fort Benjamin Harrison, Indiana, and then boarded a train for basic training at Camp Shelby, Louisiana. He qualified for artillery and was sent to Fort Hood, Texas, for continued training. Eventually he became a tank destroyer commander and was assigned to Company C, 3rd Platoon, TD #35 of the 638th Tank Destroyer Battalion, attached to the 84th Infantry Division (Railsplitters) in Simpson's 9th Army. Company C was further attached to the 335th Infantry Regiment during combat.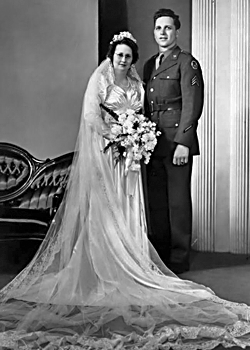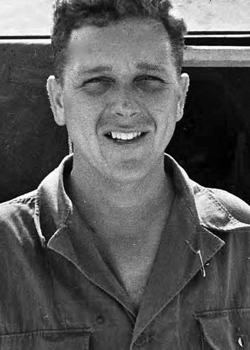 The above photo, at left, shows George and Gertrude on their wedding day and at right is George shortly before the unit was shipped overseas.
While on leave on April 6, 1944, he married the former Gertrude Van Prooyen, daughter of Gerrit and Martha Van Prooyen. Gertrude was also born in Highland, Indiana, in 1916. In August of 1944, his tank destroyer crew, along with the 638th, was transported to Fort Kilmore, New Jersey, for embarkation to Europe. They left port on September 4th and landed at Cherbourg, France, on September 15th. Sgt. George Rinsema first saw action on the Siegfried Line near Geilenkirchen, Germany from September to December of 1944. On December 20, they were ordered to leave their positions in Germany and hurriedly retreat into Belgium to stop the German Ardennes Offensive. During the Battle of the Bulge, his tank destroyer was positioned just outside of Marché, Belgium, on the road that came up from Bastogne.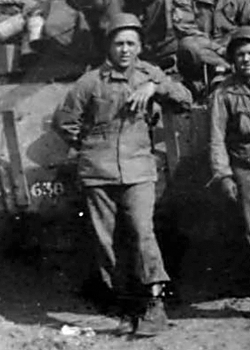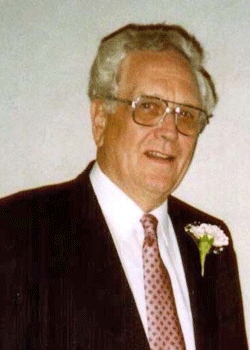 After the Battle of the Bulge, the 638th was given some rest in Heerlen, Holland, before returning to the Siegfried Line in Germany. The 84th Infantry Division then continued its penetration into Germany from the Roer River to the Rhine River (February to March 1945) and from the Rhine River to the Elbe River (April to May 1945).
Sgt. George Rinsema and his TD crew celebrated with the Russian Army in Klötz, Germany, when the war ended in May, 1945. On July 20, 1945, his outfit boarded a ship in Antwerp, Belgium, for the trans-Atlantic voyage home, this time with no U-boats to worry about. George was honorably discharged at Camp Rucker in Alabama.
Post-War: He was reunited with his wife Gertrude and settled back in Highland, IN, where they raised three children, Judd, Clyde (named after an army buddy) and Lois. George was a house painter until he retired. George was a person of faith from his boyhood. He served as deacon and elder in his church and was also a board member at the local Christian high school.
In 1995, 50 years after the end of World War II, George and his two sons went back to Europe and retraced his steps (from Cherbourg, France to Klötz, Germany) during the war years. It was an unforgettable trip for the three and many memories of his experiences during World War II flooded his mind and heart. He was able to reconnect with not only places but also people that he had met back in 1944-45.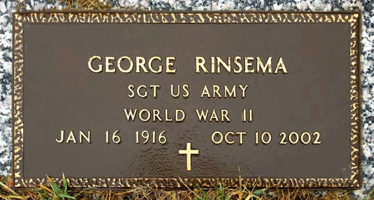 George passed away on October 10, 2002, and is buried in the Chapel Lawn Memorial Gardens, Crown Point, IN.
We would like to thank George's son, Clyde, for providing the text and photos used in this tribute.