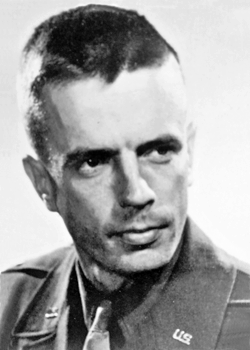 Thompson L. Raney
Biography: Thompson Lamar Raney, "Tom", was born on March 13, 1920, in Fresno, California. He was the son of Thompson L. Raney Sr. and Priscilla Bartlett and graduated from Jeb Stuart High School in Jacksonville, Florida.
Service Time: Tom entered the service in 1939 and began his military career in the mounted cavalry, stationed at Fort Oglethorpe, Georgia. He was chosen to attend Officer Candidate School at Fort Riley, Kansas and commissioned as a 2nd Lieutenant of Cavalry, in July, 1942. He was then assigned to the 823rd Tank Destroyer Battalion along with 14 of his classmates and served as a Platoon leader in their Reconnaissance Company. He was later promoted to 1st Lt. and Commanded Headquarter's Company.
The unit arrived in England on April 17, 1944, and then boarded transports and landed at Omaha Beach on June 24th with towed 3-inch guns. They supported the drive on St. Lô and fought at Mortain in August. On the 24th of that month, Lt. Raney was serving as a platoon leader in the Reconnaissance section. He was helping to set up a command post in Miserey, France, which was thought to have been cleared. They were met by superior enemy forces but Tom led the attack and was able to take the town, capturing 60 enemy troops. For these actions, he was awarded the Silver Star.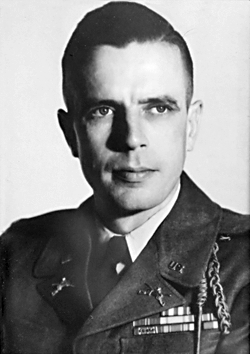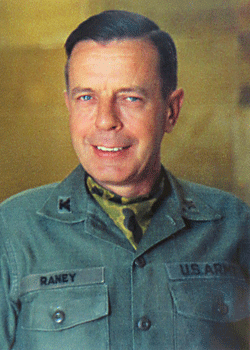 The 823rd continued into Belgium and then Holland, entering Germany on September 17th. They fought along the Siegfried Line in October, including the encirclement of Aachen. Converted to M10 tank destroyers beginning in November. They shifted to the Ardennes in late December and fought to eliminate the Bulge in January 1945. Crossing the Roer River on February 24th and then the Rhine on March 24th, they raced eastward to the Elbe River at Magdeburg in April. In the period from March 12th to April 11th, Lt. Raney assumed command of the Reconnaissance Company and led the unit during a difficult Rhine River crossing and breakthrough of enemy fortifications. His leadership, while under heavy resistance, led to the overall success of the operations. He was awarded the Bronze Star for these actions.
The unit finally began military occupation duties on April 21st. The 823rd received credit for the campaigns of Normandy, Northern France, Rhineland, Ardennes-Alsace and Central Europe.
On December 28, 1947, at the Post Chapel of Fort Meade, Maryland, Tom married the former Marianne Hofmeister. Marianne grew up in Bad Reichenhall, Germany, and was the daughter of Karl and Maria Hofmeister. The couple retired in Fairfax, Virginia, and had three daughters, Carolyn, Nancy and Linda.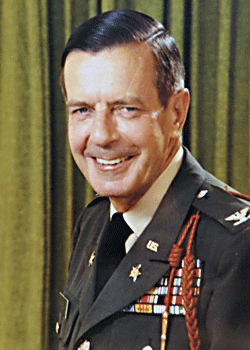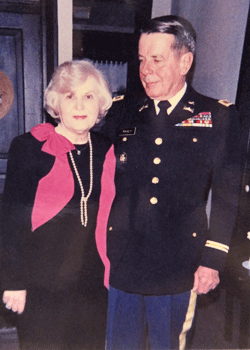 Tom remained in the Army and later served in the Korean War as the Executive Officer of a Tank Battalion from January, 1952 to February, 1953, and then at the Pentagon, on the Army General Staff from 1953 until July, 1956. During the years between conflicts, Tom graduated from the CGSC (Army Command and General Staff College) on June 18, 1957, and then attended the Army War College in 1961. These were after an assignment at the American Embassy in The Hague and a Command with the 12th Cavalry in Gelnhausen, Germany. He then returned to the CGSC as an instructor from 1962-63. He served two tours in Vietnam and served as G-3 (Operations Officer) of the VII Corps and as G-3 at EUCOM (European Command).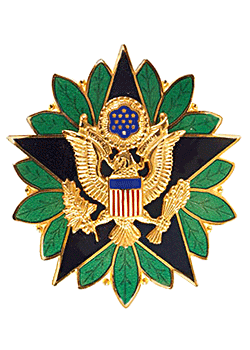 Tom was authorized to wear the Army General Staff Badge permanently, after his service on the General Staff, at the Pentagon.
In addition to the Silver Star and Bronze Star he received in WWII, Tom also received numerous awards and commendations, including a Bronze Star and second award (1 Oak Leaf Cluster) during the Korean War, and later three awards of the Army Commendation Medal (two Oak Leaf Clusters), one in 1960, 1965 and 1968. He received four awards of the Legion of Merit (three Oak Leaf Clusters), one in 1966, 1971, 1972 and in 1978. He also received the Joint Service Commendation Medal in 1972, and Meritorious Service Medal in 1975.
Joint Service Commendation Medal Citation
In addition to the places already mentioned, Tom served in many notable locations including Fort Leavenworth, Kansas, Camp Carson, Colorado, Fort Polk, Louisiana, Fort Knox, Kentucky, Fort Hood, Texas, Kelley Barracks – VII Corps in and Patch Barracks – Headquarters EUCOM, both located in Germany.
He earned his bachelor's degree in 1965 from the University of Nebraska at Omaha and retired from the Army in 1978, at the rank of Colonel. He continued his education, receiving a Master's Degree in Public Administration, from George Mason University in 1983. In his spare time, Tom loved horses and also enjoyed working with his hands doing carpentry. He is a member of the Officer Candidate School Hall of Fame and was the President of the 823rd Tank Destroyer Association, a member of the United States Cavalry Assn., and the Battle of the Bulge Veterans.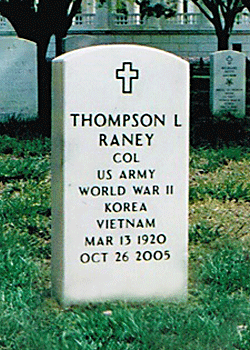 Tom passed away on October 26, 2005, at the age of 85. He was buried in Arlington National Cemetery in Arlington Virginia, Section 35, Grave 2353. His wife Marianne was buried there also.
I want to thank Tom's daughter, Nancy, for providing the information and photos for this tribute. I also want to thank her for providing a large amount of photos and documents of the 823rd TD Bn.