George M. Richey

Biography: George Melvin Richey was born on October 14, 1919, in Gueydan, Louisiana, and was the son of George Henderson Richey and Melle Vernie McCelland. He graduated from Iota High School and worked on his father's farm prior to entering the military.
Service Time: George entered the Army on March 22, 1941, at the Jacksonville Army Air Field, Jacksonville, Florida. He was eventually assigned to 2nd Platoon, Company B, of the 813th Tank Destroyer Battalion.
The unit completed all of their training at Fort Bragg, North Carolina, and shipped to England in August, 1942. More training ensued before they shipped off to North Africa, arriving there at the beginning of 1943.
They participated in the Tunisia Campaign, using the M3 tank destroyer, and worked with British and French forces as well as the U.S. 34th Infantry Division. A part of the battalion went to Sicily, Italy, with the 3rd I.D. and the 13th Field Artillery Brigade.
In the summer of 1943 they converted to the self-propelled M10 tank destroyer and again, a portion of the battalion participated in the invasion of Italy. In November of that same year, they again set sail for England and began training for the invasion of France. They landed in Normandy at Utah Beach on June 27, 1944, where they were attached to the 79th Infantry Division. Joining the drive to Le Mans and then north to Alencon at the Falaise Gap, they were the first armored unit to cross the Seine River. They entered Belgium on September 2nd, later fighting around the Foret de Parroy, in October, and supported the advance toward Strasbourg in November.
On November 30th, 2nd Platoon moved to a point half-way between Harthausen and Hagenau, France, firing on an enemy tank and foot troops. During this action, an enemy artillery shell struck a tree over one of the M10s and George, who was the Section Sergeant, and the Assistant Gunner, Barry L. Yeck, were both killed by the shrapnel sprayed into the open topped turret.
Sgt George M. Richey would have been awarded the Good Conduct, WWII Victory and EAME medals, with credit for the Tunisia, Rome-Arno, Normandy, Northern France and Rhineland Campaigns. He posthumously received a Purple Heart.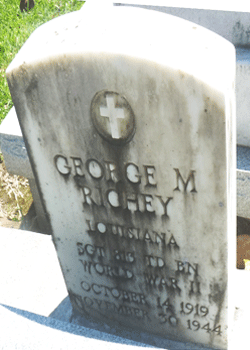 Sgt. Richey was initially buried in a U.S. military cemetery in France. In 1949, he was repatriated to the U.S. and buried in the Maxie Cemetery, Maxie, LA. We would like to thank Sgt. Richey for making the ultimate sacrifice for his country. I also want to thank Melanie Perry for providing the grave marker photo.