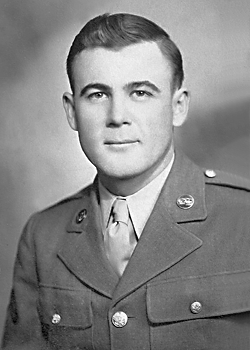 LaDoyt W. Rumple
Biography: LaDoyt W. Rumple was born on March 19, 1918, in the family home in rural Rockford, Ohio. He was the son of William Burel Rumple and Mabel Louise Becher. He attended local schools in Rockford and, while in high school, participated in Future Farmers of America, Glee Club and the school play his senior year. He was also on both the basketball and baseball teams his sophomore, junior and senior years. He graduated in 1936 and then worked as a farmer.
Service Time: LaDoyt entered the service on June 1, 1942, at Columbus, Ohio. During his initial training, he earned a Marksman rating with the rifle. He was later assigned to the Reconnaissance Company of the 819th Tank Destroyer Battalion.
The battalion received training at a number of military facilities including Camp Chaffee, Arkansas and Camps Bowie and Hood in Texas, before moving to Camp Ibis, California, on July 25, 1943. Camp Ibis was part of the Desert Training Center and they remained there for over 7 months until they received their orders for overseas duty. The 819th moved to Camp Stoneman, CA for final preparations before shipment. On March 15, 1944, the battalion boarded the USS George O. Squier and shipped out from the San Francisco port, arriving in Hawaii on the 24th.
While in Hawaii, the 819th made improvements to the facilities and handled assignments in observation points and security posts, doing forced marches and continuing their training. They utilized some of their guns as coastal artillery around Hilo Harbor and did night firing with excellent results. On November 17th, the unit's table of organization was changed from using towed 3″ guns to self-propelled M10 tank destroyers with their drivers and maintenance personnel spending the next few months familiarizing themselves with the new units.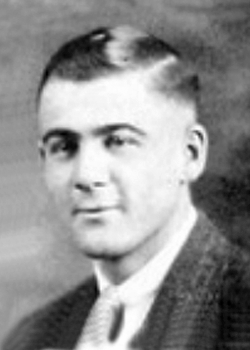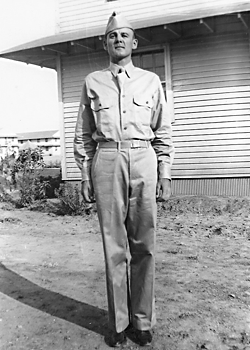 On January 12, 1945, they boarded the USS Eastland, briefly stopping at Honolulu Harbor, and briefly stopped for fuel in the Marshall Islands, arriving at Peleliu, Palau Island, on February 1st. The gun companies received their M10s and began getting acquainted with them with one platoon of Recon. Company acting as Joint Operations Center guard, defending the island's airstrip. They were equipped with M8 Command Cars, featuring a 37mm gun.
The unit continued their training and provided indirect fire on enemy targets, After the surrender of Japan on September 2nd, the battalion spent most of its time doing weapon and vehicle maintenance. The 819th received credit for the Western Pacific (Peleiu) Campaign. LaDoyt was awarded the Asiatic-Pacific Campaign, American Theater, WWII Victory and Good Conduct Medals. He was discharged at Camp Atterbury, Indiana, on November 28th.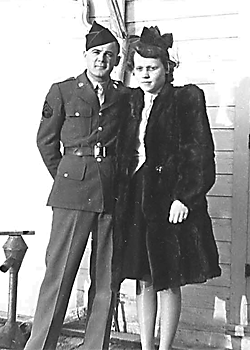 Now back in the U.S., LaDoyt worked as a plumber and also farming. On February 2, 1946, he married the former Vonda Mae Romshe, who had been born in Wapakoneta, Ohio, and was the daughter of William Edward Romshe and Gladys Reed. The new couple would make their home in Rockford and have four children, Janet, born in 1947, Twins Mark and Marcia in 1952, and Randall in 1953. Sadly, the twins died at birth.
In his spare time, LaDoyt enjoyed watching sports on TV and was also a member of the American Legion and Shanes #377 Masonic Lodge, both in Rockford. LaDoyt passed away on May 9, 1985, and was buried in the Riverside Cemetery in Rockford. I want to thank LaDoyt's son, Randall, for providing the information and photos from this tribute. I would also like to thank E-Yearbook for the photo of LaDoyt, in high school. The photo is used by permission of Digital Data Online, Inc. I also want to thank Find A Grave contributor, corgilover, for use of the grave marker photo.