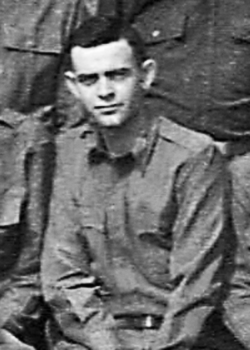 Richard A. Reynolds
Biography: Richard Allen Reynolds was born on September 28, 1921, in Missouri. He was the only son, along with four daughters, born to Ralph Leroy Reynolds and Mary Estelle Martin. By 1930, the census records indicate the family was living in Memphis, Shelby, Tennessee. His enlistment record indicates he completed three years of high school and was working as a farm laborer.
Service Time: Richard enlisted in the Army on September 16, 1940 at Memphis. His record shows he was a National Guard member in the Field Artillery branch. We don't have any information on his early days in the military but on October 7, 1942, he was assigned to and joined Headquarters Company, 607th Tank Destroyer Battalion as a 2nd Lieutenant. On the 11th, he was assigned to Company B.
He trained with the unit at a number of locations including: Fort Ord, Camp San Luis Obispo, Hunter Liggett Military Reservation and the Desert Training Center, all in California, along with Camp Hood, Texas and Camp Cooke, CA. He was assigned to Reconnaissance Company on April 28, 1943, as a 1st Lt. While they originally trained with M10 tank destroyers, the unit was converted to a towed battalion, utilizing the M5 3" anti-tank gun, on December 15, 1943.
Arriving at Liverpool, England, on April 21, 1944, they continued training. When the unit is stationed at Camp Barton Stacey, Hampshire, England, in June, he is back with Company B. Company B landed at Utah Beach, Normandy, France on June 23rd and the 607th supported the advance on Cherbourg, fighting along the Seves River in July. They joined the drive to Le Mans and envelopment of the Falaise Pocket in August, advancing to the Moselle River in September and supporting operations against Metz through November. The unit converted to a self-propelled battalion equipped with M36 tank destroyers in time for the final assault on Metz. Continuing the drive toward the Saar River, they participated in the attack on Saarlautern, Germany, followed by the subsequent fight against the Siegfried Line in December.
On December 5, 1944, Lt. Reynolds moved his platoon across a bridge to assist the infantry in expanding the bridgehead northward. He repeatedly exposed himself to enemy fire while directing his four tank destroyers. On one occasion, he halted his destroyer in an exposed position and personally rescued members of another crew who were trapped in a burning tank destroyer. During subsequent action, while directing fire against enemy pillboxes, 1st Lieutenant Richard A. Reynolds was killed in action.
He earned the French Croix de Guerre with Silver Star, the Silver Star and the Oak Leaf Cluster to the Silver Star, the EAME with credit for the campaigns of Normandy, Northern France and Rhineland and the WWII Victory medals. He was posthumously awarded the Distinguished Service Cross and Purple Heart medals.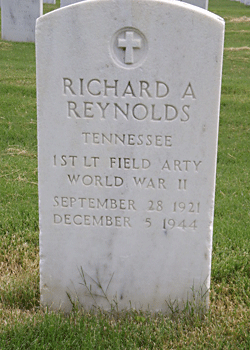 Lt. Reynolds was originally buried overseas at Limey-Toul, France, but on February 3, 1949, he was re-interred at the Memphis National Cemetery, Memphis, TN, site H 5883. We would like to thank Lt. Reynolds for making the ultimate sacrifice for his country. We would also like to thank Find-a-Grave contributor Pooka29 for use of the grave marker photo.