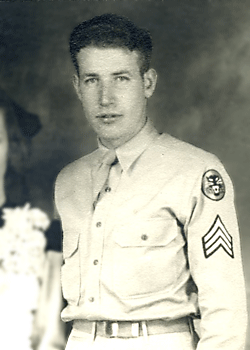 John R. Ray
Biography: John Roscoe Ray was born on September 20, 1920, in Tell City, Indiana. He was the son of Roscoe Edward Ray and Dorothea Margaritha Holtzmann and attended local schools through the 12th grade. He then went to work as a machinist and did radio assemby.
Service Time: John entered the service on March 16, 1943, at Fort Benjamin Harrison, IN. After his basic training, he was assigned to the 653rd Tank Destroyer Battalion, which had been formed at Camp Bowie, Texas. John trained within the U.S., at a number of facilities including Camp Hood, Texas, Fort Benning, Georgia, and Camp Forest and Spencer Range, Tennessee before moving to Camp Rucker, Alabama.
On April 19, 1944, while on leave from Camp Rucker, John married the former Ruth Marie Burkhart. She was born in Henry County, Ohio, and was the daughter of Ivan Leroy Burkhart and Hilda Marie Nye.
During his training, John qualified as a Marksman with the rifle and machine gun, a Sharpshooter with the carbine and an Expert with the rifle and submachine gun.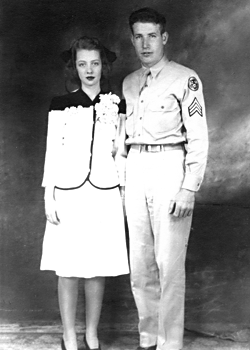 On May 10, 1944, while stationed at Camp Van Dorn, Mississippi, all personnel of the 653rd were transferred to the 144th Infantry Regiment, which was assigned to the XXI Corps. The members of the 653rd as well as soldiers from other disbanded units were put through a six-week course of infantry training.
John was chosen for Officer Candidate School and was sent to Fort Knox, Kentucky, where he would graduate as a Second Lieutenant. He was assigned to North Camp Hood, with additional assignments at Camp Roberts, California and Fort Knox, Kentucky.
John left the service at the rank of 1st Lieutenant. He was awarded the American Campaign Medal and the Good Conduct medal for his service.
After his discharge, John initially found work as a patternmaker but he would also work in an iron foundry and as a farmer. He and Ruth would have 5 children, 3 sons and 2 daughters. John passed away on June 7, 2020, and was buried in the Saint Wendelin Catholic Cemetery in Fostoria, Ohio.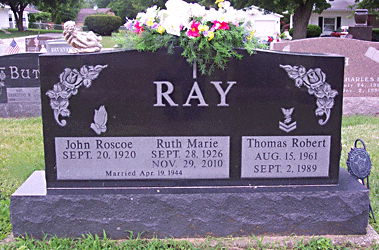 I want to thank John's son, John Jr., for providing the information and photos for this tribute.