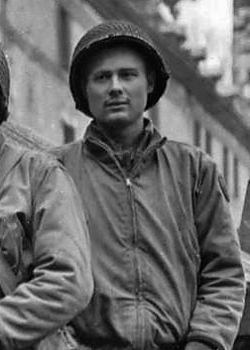 Arion J. Revis
Biography: Arion Jesse Revis was born on June 25, 1919 in Muse, Le Flore County, Oklahoma. He was one of four sons and one daughter born to Jesse Thomas Revis and Melissa May Carver. Little is known of Arion's early life but the 1940 Census shows he had completed 8th grade and was in the Army, stationed at Fort Bliss, El Paso, Texas.
Service Time: As mentioned, Arion was in the Army by 1940. We don't have information regarding his early years in the military but in November, 1942, he was assigned to Company C of the 823rd Tank Destroyer Battalion. The 823rd trained at a number of military bases including Camps Bowie and Hood, Texas, and Camp Claiborne, Louisiana, where they were located prior to participating in the Louisiana maneuvers.
The unit boarded trains on March 9, 1944. enroute to Camp Myles Standish, and the Boston port, where they arrived on the 12th to begin their final preparations for the trip overseas. On April 6th, they loaded the U.S.S. Sea Porpoise and sailed for England, arriving in Newport, Wales, on the 17th after an uneventful trip.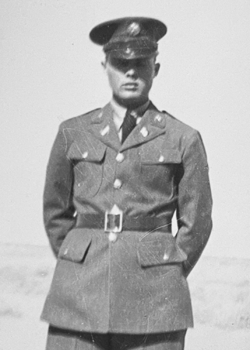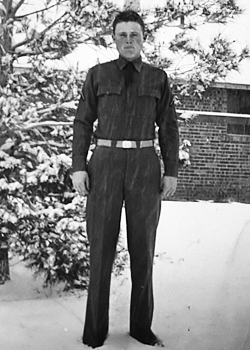 After some additional training and a delay, they boarded three LSTs and landed on Omaha Beach, Normandy, France, on June 24, 1944. They were equipped with 3″ towed anti-tank guns and went into action within 24 hours of their arrival. Supporting the drive on St. Lô, they fought at Mortain in August and passed through Belgium and Holland, entering Germany on September 17th.
On August 15, then Staff Sergeant Revis earned a Silver Star Medal for actions in France, the citation reading as follows.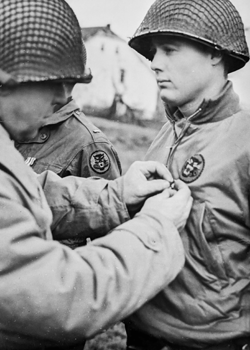 "S/Sgt. Arion Revis, 823rd T.D. Bn., U.S. Army, is awarded the Silver Star for gallantry in action on 15 August, 1944, in France. When an infantry battalion, his unit was supporting, was halted in its advance by small arms and direct artillery fire, Sgt. Revis volunteered to reconnoiter ahead of the battalion to locate the enemy positions. Although he was continually under intense fire by the enemy, Sgt. Revis dauntlessly advanced 100 yards ahead of friendly lines and searched the vicinity until he discovered an enemy half-track vehicle which was firing upon his unit. After he had noted the location of the vehicle, Sgt. Revis returned to his lines an his information enabled the artillery to destroy the position. Sgt. Revis' voluntary action, performed at the risk of his life reflects the highest credit on himself and his unit."
Fighting along the Siegfried Line in October, which included the encirclement of Aachen, the 823rd converted to M10 tank destroyers beginning in November, and shifted to the Ardennes in late December, fighting to eliminate the Bulge in January, 1945.
On February 4, 1945, Arion received a battlefield commission as a 2nd Lieutenant.
They crossed the Roer River on February 24th and the Rhine River on March 24th. The unit raced eastward to the Elbe River, at Magdeburg, in April and finally began military occupation duties on April 21st. The 823rd received credit for the campaigns of Normandy, Northern France, Rhineland, Ardennes-Alsace and Central Europe. In addition to the Silver Star, Arion was awarded the WWII Victory, EAME and the Occupation of Germany medals. He was discharged on Dec 5, 1945 at the rank of 2nd Lieutenant.
Revis Brothers' Military Service – Article
At some point, Arion's family had relocated to Klamath Falls, Oregon. It is likely that when he returned to the U.S., he went to Klamath Falls. On March 1, 1946, he married the former Virginia Mabel Godard, from Grants Pass, OR, who was the daughter of John Martin Godard and Ellen Lavilla Johnson. The couple had two children. Arion retired from the Quality Control Lumber Mill in 1981.
He passed away on January 13, 1991 in Prineville, Crook County, Oregon and was buried in the Juniper Haven Cemetery, Block M, Lot 150, Space 6, in Prineville. Thank you to Find A Grave contributors Carrie and Allen for use of the grave marker photo. ©2021 by Carrie and Allen on Find A Grave. Used with permission.