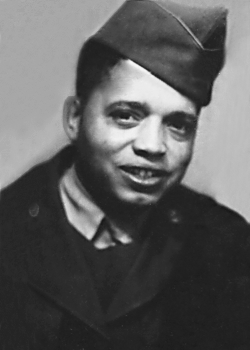 Mark H. Ray
Biography: Mark Hannah Ray was born on May 27, 1918 in Franklin, Macon County, North Carolina. He was one of six sons and three daughters born to Andrew Madison Ray and Grace Mable Love.
Service Time: Mark entered the Army on April 30, 1942. At some point, he was assigned to the First Reconnaissance Platoon of Headquarters and Headquarters Company, 614th Tank Destroyer Battalion. At that time, the 614th was stationed at Camp Hood, Texas where they trained in all aspects of tank destroyer unit skills. They went to the Louisiana Maneuvers and then returned to Camp Hood where they continued to act as school troops for the OCS classes.
Finally, in August of 1944, they moved to Camp Shanks, New Jersey, where they prepared for overseas shipment. The unit shipped out from the New York port on August 27, 1944, and arrived in England on September 7th. A month later, on October 8th, they landed at the Utah beachhead and were initially deployed to Metz, France, later supporting operations against the Siegfried Line in November and December.
On December 7th, the 614th was attached to the 103rd Infantry Division, a pairing that would last until the end of the war. They were shifted to the Hagenau Forest area for a short period and then continued to support operations against Siegfried Line fortifications until late March, 1945.
Private First Class Mark H. Ray was awarded a Bronze Star Medal for heroism in action, the Citation reads as follows:
"Private First Class Mark H. Ray, 34302120, Field Artillery, Headquarters Company, 614th Tank Destroyer Battalion. For heroism in action. On 19 March, 1945, near Nothweiler, Germany, when a blown bridge prevented a reconnaissance platoon from moving forward in their vehicles, Private Ray advanced on foot, carrying his machine gun. The platoon was immediately pinned down by heavy enemy machine gun fire from four well concealed emplacements, which wounded his section sergeant. Disregarding the enemy fire, Private Ray assisted the wounded man to the platoon command post, where he aided in pointing out on a map, the exact location of the enemy positions. This information proved to be of valuable assistance in the planning of future operations. Private Ray's actions reflected the highest traditions of the military service. Residence: Franklin, North Carolina."
The 614th performed occupation duties in early April and then joined the race to Innsbruck, Austria, and Brenner Pass. The unit received credit for the campaigns of Northern France, Rhineland, Ardennes-Alsace and Central Europe.
In addition to the Bronze Star, Mark would have received the Good Conduct, WWII Victory, the EAME, with credit for the campaigns of Northern France, Rhineland, Ardennes-Alsace and Central Europe, and the Occupation of Germany medals. He was discharged on December 5, 1945 and left the service at the rank of Sergeant.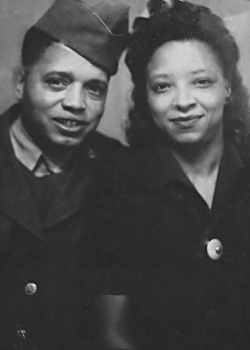 Mark returned home and on May 19, 1948, he married the former Elizabeth S. Evans in Seminole County, Florida.
It is believed the photo at left shows Mark and Elizabeth.
Daytona Beach, FL, city directories show him working as a waiter at the Club Bali in 1951 and as a Bellman at the Whitehall Hotel in 1955. A High Point, NC city directory shows him employed as the Head Waiter at the Emerywood Grill Room in High Point. Mark and Elizabeth divorced on September 19, 1961.
On October 30, 1961, he married the former Dorothy Dawkins of High Point. She was the daughter of John and Pearl P. Wood. Mark passed away on December 30, 1979 in High Point, Guilford County, North Carolina. Thank you to Ancestry member Mark Ray for use of the photos.