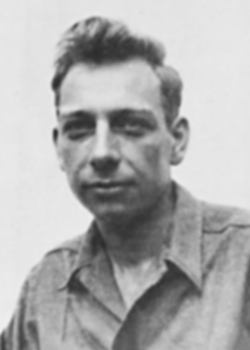 Albert L. Russell, Jr.
Biography: Albert Lawrence Russell was born on August 10, 1923, in Philadelphia, Pennsylvania. He was the son of Albert L. Russell Sr. and Annie E. Kenney and graduated from local schools in Philadelphia.
His family's only recollections of him working prior to the war was that he was putting up billboards with his brother-in-law, Larry. His registration card states that he was working for Westinghouse Electric Manufacturing Company in Lester, PA.
Service Time: Albert enlisted in the Army on January 22, 1943, and entered active service on the 29th. After his basic training, he was then assigned to Company B of the 629th Tank Destroyer Battalion. The 629th had been established December 15, 1941, at Fort Meade, Maryland, training at Camp Hood, Texas and additionally at the Desert Training Center (Camp Ibis) near Indio, California. They also trained at Camp Maxey, TX, before finally moving to Camp Kilmer, New Jersey, for final preparations before shipping out. The men were moved by truck to the New York port and sailed on a British transport ship on December 29, 1943.
The ship arrived at Liverpool, England, on January 9, 1944. The men began seven months of training before being loaded on LSTs (Landing Ship Tank) and landing at Omaha Beach on July 1st. The unit performed artillery missions in the Caumont sector and then joined the 30th Infantry Division in fighting at Mortain in early August. They then supported the reduction of the Falaise Pocket and participated in V Corps parade through Paris on August 29th, celebrating its liberation.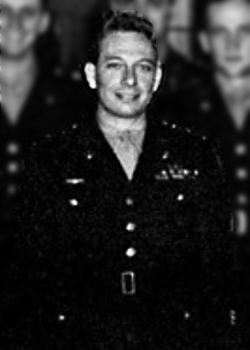 Advancing to Luxembourg by early September they then supported operations in the Hürtgen Forest and against the Siegfried Line. The 629th shifted to the Ardennes sector on December 24th and fought to eliminate the Bulge in January 1945. It was in the vicinity of Bihain, Belgium, while attached to the 83rd Infantry Division, that Albert's M10 Tank Destroyer destroyed three enemy tanks. Albert was awarded the Bronze Star with V device for that particular action.
The photo on the left is Albert, posing with the other members of the Scabbard and Blade Society, while attending Temple University.
The unit joined the renewed assault on the Siegfried Line in February and crossed the Rhine River into the Remagen bridgehead on March 11th, converted to M36 Tank Destroyers that same month. In April, they participated in operations against the Ruhr Pocket, then conducted a road march south to Bavaria and reached the Isar River before ending offensive operations.
Albert received credit for each of the unit's five campaigns in Normandy, Northern France, Rhineland, the Ardennes and Central Europe. Albert left the service at the rank of Sergeant and in addition to his Bronze Star he also shared in two Unit Citations, one earned by Company B's 1st Platoon and the other earned by the entire Company. He shipped home on October 28th, arriving back in the U.S. and leaving the service on November 5th, at Indiantown Gap Military Reservation in PA.
As with most of the WWII veterans, Albert didn't talk much about his experiences during the war but did relate a story about when a Junkers Ju 88 (a German twin-engine combat aircraft) was hedge-row hopping at a very low elevation and flew directly toward where their tank destroyer was parked. Albert said, "all my gunner had to do was pull the trigger, the 88 was right in his sights". The family was never really sure if the plane was shot down by the TD's main gun or its .50 caliber machine gun.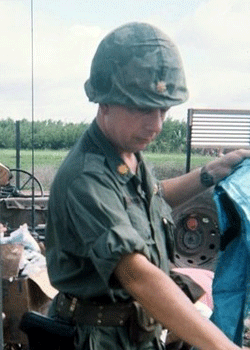 Albert returned home to Philadelphia and attended Temple University, participating in their ROTC (Reserve Officers' Training Corps) program. He was also part of the Scabbard and Blade Society, which was a honorary society of the Officer' Training Corps. After graduating in 1951, and receiving his commission as a 2nd Lieutenant, he re-enlisted in the Army.
In February of 1946, Albert married the former Rita Ann Rusche who was born in Philadelphia as well and was the daughter of August Rusche. Albert would make a career of the military and serve at many locations all over the world, including Bad Kissingen, Germany in 1952; Fort Knox, Kentucky; Fort Riley, Kansas; Carlisle, Pennsylvania; Dickinson College, where he taught ROTC; South Korea; Schofield Barracks, Hawaii and language school at Fort Holabird, Maryland; Military Attaché in Buenos Aires Argentina and Military Attaché in Ethiopia, which we believe was in Addis Ababa.
Although he had received numerous awards during his service in WWII, during the Korean war and over the years in between, it was his three tours in Viet Nam as part of the 11th Infantry Brigade where he would receive his most impressive decorations. On three separate occasions, his intrepid actions would neutralize enemy actions, save lives, and exemplify the highest traditions of the military. He was awarded the Silver Star, the Distinguished Flying Cross and a second Silver Star (1st Oak Leaf Cluster).
Silver Star Certificate – Actions of September 5, 1968
Distinguished Fly Cross Certificate – Actions of September 6 & 7, 1968
2nd Silver Star Certificate – Actions of March 21, 1969 (1st Oak Leaf Cluster)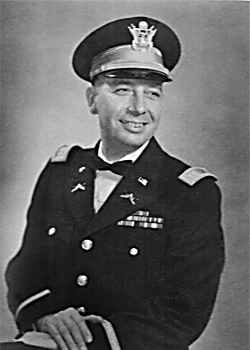 All in all, his helicopter was shot down 3 times and Albert received additional awards including the Department of Defense Superior Service Medal, Legion of Merit with Oak Leaf Cluster, Bronze Star with V device and three Oak Leaf Clusters, Air Medal with V Device with 14 Oak Leaf Clusters. He also was given the Purple Heart in recognition of wounds he had received. He didn't speak much of his experiences but prior to his death, he spoke about the actions surrounding his second Silver Star:
"I was standing next to the door gunner when a round took his head off. The chopper went down and I got all of the civilians off and formed a perimeter with the crew. I dismounted the door gun, and we held them off until the rescue showed up; got 13 of them that time." Albert retired at the rank of Colonel.
Albert and Rita would have two sons and a daughter and made their home in Laguna Niguel, California, for the last twenty years of his life. Albert passed away on April 22, 1996, and his ashes were interred at the National Memorial Cemetery of the Pacific (Punchbowl) in Honolulu, Hawaii. I want to thank Albert's son, Ken, for providing the information and posed photos of his father for this tribute. Thank you also to Find A Grave contributor David A Swiger for the grave grave marker photo and Roger McGill of the 3rd Squadron, 4th Cavalry Association for the Vietnam era photo. Thank you to E-Yearbook.com for the photo of Albert while a student at the Temple University. The photo is used by permission of Digital Data Online, Inc.