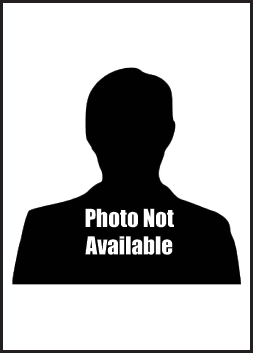 William A. Rummel
Biography: William Andrew Rummel was born on March 13, 1922, and grew up in Maspeth, New York. He was the son of John Rummel and Madeline Lang and attended local schools through the 10th grade. His enlistment record indicates he had experience in a woodworking occupation but his family states he was employed by the Western Electric Company in Middle Village, NY, as a clerk.
Service Time: William entered the service on November 12, 1942, and after his initial training, he was assigned to the 602nd Tank Destroyer Battalion. The unit was equipped with M10 tank destroyers but converted to M18s before leaving the U.S.
The unit trained at a number of military facilities, including Camp McCoy, Wisconsin, Fort Leonard Wood, Missouri, Camp Forest, Tennessee and Fort Sam Houston, in Texas.
On October 15, 1943, while on leave in New York City, William married the former Marie C. Nuetzel, who was also from Maspeth but she was born in Queens, NY, and was the daughter of Andrew Joseph Nuetzel and Katherine Koehler.
The unit shipped out on July 18, 1944, from the New York port, aboard the S.S. Bergensfjord and arrived in Scotland on July 29th. A month later they landed at Omaha Beach on August 26th. They were committed to battle along the Moselle River on September 9th. The unit journal for that day says:
"9 September 44, Company C, less one platoon, assigned mission of covering and holding bridge across Madon River in vicinity of Haroue. Company A assigned mission of covering and holding bridge across Madon River at Xirocourt. Reconnaissance Company, less one platoon, made reconnaissance to the south and east around Socourt and Bralleville. Company C contacted enemy in vicinity of Roville. Losses: two enlisted men killed, one enlisted man wounded seriously, one ¼ ton truck and M-18. Damage inflicted on enemy: one battery of field artillery knocked out. Pvt. Winney of Reconnaissance Company credited with destroying a machine gun nest with an M-1 rifle. Losses of Reconnaissance Company: one motorcycle. Reconnaissance Company and Company C both subjected to frequent artillery shelling and forced to withdraw."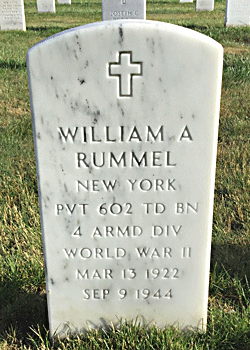 Sadly, Pvt. William A. Rummel was one of the two men killed that day. His hospital admission file identifies that his injuries were caused by artillery shell fragments. He was initially buried at Champigneul Chalons sur Marne, France until 1948, when his family had him brought back to the U.S. and permanently interred in the Long Island National Cemetery in Farmingdale, NY.
Thank you to William's relative, Martin Nuetzel, for providing the information for this tribute. Thank you also to Find A Grave contributor, Frank W., for the use of the grave marker photo.