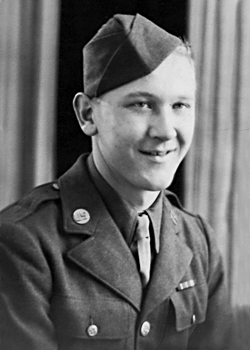 Marvin L. Rouhier
Biography: Marvin Leonard Rouhier was born on August 5, 1924, in Wooster, Ohio. He was one of four sons and two daughters born to John Edward Rouhier and Esther Josephine Walter. He graduated from Wooster High School in 1942.
Service Time: Marvin entered the Army on March 27, 1943, at Fort Hayes, Columbus, Ohio. Eventually he was assigned to the Reconnaissance Company, 818th Tank Destroyer Battalion. The unit trained at number of military installations including Fort Sill, Oklahoma, Camp Hood, Texas, and Mansfield, Louisiana, where they took part in large scale maneuvers.
The unit moved to Fort Dix, New Jersey, and then Camp Shanks, New York for final preparations for shipment overseas. The men boarded ship and departed on October 21, 1943, arriving in Northern Ireland on November 1st and began training for the upcoming invasion. They boarded transports on July 11, 1945 (D+36) and landed in France on the 14th with M10 tank destroyers. On July the 18th, units of the 818th began firing indirect fire missions for the 5th Infantry Division artillery. On the 26th, units began supporting the 5th ID infantry regiments with direct fire on enemy strongpoints. By the end of July, the pace of American troop advancement into France was beginning to pick up. By mid-August, the unit was in the area of Chartres, France.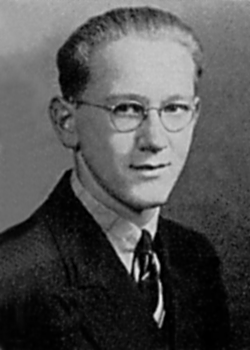 On August 18, 1944, near Allaines-Mervilliers, France, Marvin and another Recon Company soldier, Private Lyman Andrews, were stationed at an observation post when a column of German armor advanced toward their position. Marvin alerted his headquarters of the impending attack and courageously delayed the enemy who outnumbered and outgunned him in his vulnerable position. Later reconnaissance revealed that 20 vehicles were involved in the attack.
He was shot early in the exchange. Suffering from mortal wounds, Marvin continued to communicate the enemy's position, while simultaneously destroying critical equipment, including his radio, to prevent its capture by the enemy. He continued to provide covering fire so that his fellow soldier could escape. As a result of his gallantry, the German attack was thwarted and his comrade survived.
When French partisans came across Marvin, he was found mortally wounded in the abdomen and the loin. He was taken to a field hospital where he received a blood transfusion. Despite this, he died from his wounds.
Marvin was initially buried in the St. Corneille – Le Mans Cemetery, France. He was posthumously awarded a Silver Star for his actions on the 18th. He was also posthumously awarded a Purple Heart Medal along with the World War II Victory, EAME, with credit for the Normandy and Northern France campaigns and the American Campaign medals.
In 1948 Marvin's remains were returned home to Ohio. He was reburied in the Saint Mary's Cemetery, Wooster, Ohio.
His family never knew of Marvin's heroic actions. The details surrounding his death had fallen through the war time cracks. Then, in 2010 his name, along with the issuing headquarters and General Order Number, was found on an internet listing of recipients of the Silver Star.
The presentation of the Silver Star (posthumous) by members of the Third Army to the surviving siblings of Private Marvin L. Rouhier took place on August 18, 2012, at the high school from which he graduated in Ohio, sixty-eight years to the day after the action in which he earned it took place.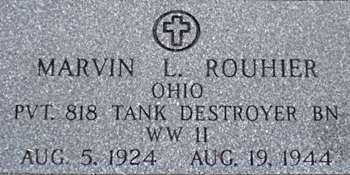 Thank you to Find a Grave contributors Kenneth and Cynthia Love for the use of the main photo of Marvin. Thank you also to "peggy babbs" for use of his grave marker photo. Thank you to E-Yearbook.com for the younger photo of Marvin, while a student at Wooster High School. The photo is used by permission of Digital Data Online, Inc.