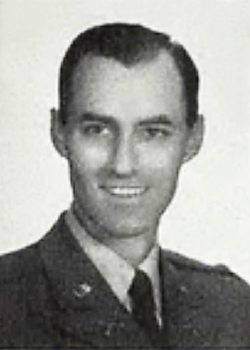 Allen W. Rodeheffer
Biography: Allen William Rodeheffer was born on September 3, 1917, in New Knoxville, Ohio. He was the son of Edward J. Rodeheffer and Alvina Mary Fledderjohann. He was one of 9 children, 5 boys and 4 girls in the family.
After graduating from New Knoxville High School in 1935, Allen went on to attend Ohio State University, graduating in 1940. While there, he was a member of the O.S.U. Rifle Team and Agricultural Education Society.

Service Time: Allen entered active duty in the Army on February 7, 1941, as a Second Lieutenant. He had previously been in the Army Reserves and was commissioned on June 10, 1940. He received a Regular Army commission as a 2nd Lieutenant on Feb. 20, 1942. While we don't have additional information on his military service for the intervening period, he is listed on the personnel roster for the 6th Tank Destroyer Group on December 31, 1943, while they were at the Ft. Hamilton staging area in New York City.
They arrived in England on Feb. 5, 1944, and then shipped to France, landing on Jul. 25, 1944, acting as part of Task Force "A", VIII Corps of Third Army during the Brittany Campaign. While still in England and stationed at Binnegar Hall in Dorset, Allen is shown with Captain's bars. Allen is still with the unit as of August 1944, but at some point while the unit was still in Belgium, he had transferred out, possibly to the XIII Corps or Ninth Army, to which the unit was attached, beginning on September 5, 1944. At 6th supported the XIII Corps as their Anti-Tank section.
We as not sure where he served out the rest of the war but he was promoted to 1st Lt. on February 20, 1945, and in total, he was overseas for a total of 19 months. He would later spend 7 months with the Army Task Force in Alaska.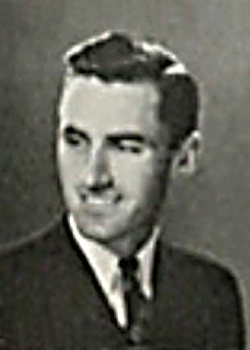 The photo on left is his graduation photo from Ohio State University.
Allen chose to remain in the Army and continue his military career following the end of the war. In 1947-48 he was serving at Fort Bragg, North Carolina with the field artillery. He was a member of the testing board, which tests new projectiles and other field weapons. On February 13, 1949, he married the former Jean Witherspoon, from Roanoke, Virginia, who was the daughter of Emmett E. Witherspoon and Katherine Younce. The new couple would have three children, Katherine, Susan and Patricia. He was promoted to Major on July 2, 1953. In 1957, at the rank of Lieutenant Colonel, he was head of the ROTC program and was a professor of military science and tactics at Wheaton College in Wheaton, Illinois. He retired from the Army on August 31, 1965.

Jean had also served in the Army during WWII, August 1, 1942 through March 3, 1945, and is listed at the rank of 1st Lieutenant. For three and a half years she served in the Army Nurse Corps, attached to the 65th General Hospital and spent 20 months in England. She passed away on October 9, 1982, and Allen would later marry Lenore Hamilton.
After leaving the military, Allen earned his graduate degree in education from North Carolina State University. He served on the North Carolina Board of Higher Education and in 1976, he moved to General Administration, University of North Carolina , where he was the state director of community and continuing education before retiring in 1979.
The family then moved to the Outer Banks of North Carolina, where he was a member of the Duck Woods Country Club and a past member of the Southern Shores Volunteer Fire Department. Allen was a member of the Duck United Methodist Church.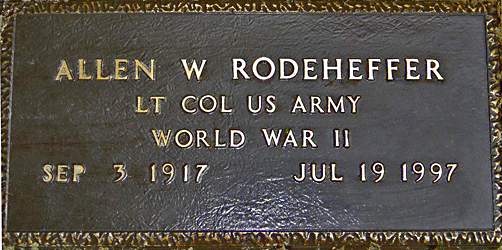 Allen passed away on July 19, 1997, and was buried in the Southern Shores Cemetery in Southern Shores, North Carolina.
The main photo above shows Allen while an Assistant Professor at Wheaton College. That photo and his graduation photo are both used by permission of Digital Data Online, Inc. and E-Yearbook.com. Thank you to Find a Grave contributor Robert Munson for use of the grave marker photo.