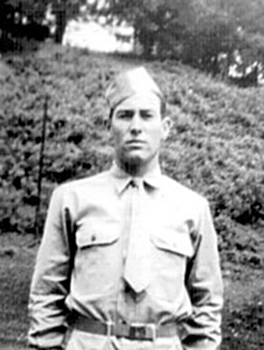 Steve S. Rogers
Biography: Steve Sanford Rogers was born on July 23, 1921, in Lovelady Gap, which is located in Lee County, Virginia. He was the son of Luther Dae Rogers and Susie Catherine Bishop and he attended Jasper School in Lee County, VA. In the years after school, Steve worked as both a coal miner and as part of the CCC (Civilian Conservation Corps).
Service Time: Steve entered the service on Jan. 2, 1943, in Abingdon County, VA. He spent time at Camp Lee, Virginia, and Camp Hood, Texas, where he became part of Company B of the 819th Tank Destroyer Battalion. The battalion went on to train at Camp Ibis, California, which was part of the Desert Training Center. The 819th shiped to Hawaii and then into the Western Pacific (Peleiu), receiving credit for that campaign. The unit also spent time on the Mariana Islands. Steve reached the rank of Technician 5th Grade.
After the war, Steve returned to Virginia to work as a coal miner, carpenter and construction worker. He also remained active in the Army as part of the Virginia National Guard. On June 12, 1948, Steve married the former Ella Marie Phillips of Wise County, VA. She was the daughter of Charlie Phillips and Nettie Lou Gilliam Phillips. The new couple lived in Duffield, VA, and raised five children, Charles, Margaret, Jimmy, Claude and Wanda. Besides spending time with his family, Steve enjoyed gardening and woodworking and was also a member of the VFW (Veteran's of Foreign Wars).
Steve passed away on Sept. 19, 2007, and was buried in the Rogers Family Cemetery, in Lee County, VA. To honor his grandfather, Steve's eldest grandson, Jimmy Rogers, Jr. wrote the following tribute:
He was a proud WWII veteran and a great American, flew the American flag in his yard every day. Only drove American made vehicles, worked hard every day, stood up for what he believed in, had great family values, and loved my grandma with a passion that cannot be found anywhere in this world anymore. Anyone who does not believe in true love or the fact that you do not need a lot to be happy with life should take some time to reflect back on the lives of my grandparents, Steve and Marie Rogers.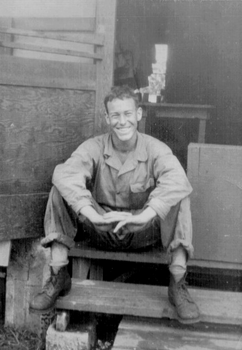 I want to personally thank Leonard and Wanda Harless (Steve's daughter) for their confidence and trust in me and this project. It is my hope that this and the other information they have provided will be a lasting tribute not only to her father but also to the men of the 819th Tank Destroyer Battalion.