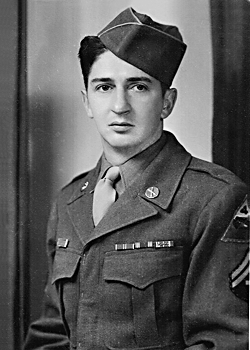 Walter C. Righton
Biography: Walter Charles Righton was born on August 29, 1918, in Chicago, Cook County, Illinois. He attended grammar school before going to work to help the family. Walter worked for a grease and oil manufacturing company prior to entering the service.
Service Time: Walter joined the army on Jan. 29, 1942, at Camp Grant in Il. He was assigned to the 704th Tank Destroyer Battalion and specifically drove a fuel truck. Keeping fuel in the tank destroyers was an extremely important job which would later earn him the nickname, Gas Can Wally.
The unit shipped out from the Boston port on February 27, 1944, and arrived in the United Kingdom by March 12th. They were the first battalion in the ETO to receive M18 tank destroyers in May and soon shipped out for France, landing at Utah Beach on July 13th.
They participated in the Cobra breakout at end of the month, advancing into Brittany and then raced east across France, passing north of Orleans, and crossing the Moselle River to Luneville in early September. They remained in the general area through October and fought in the Morhange region in November, crossing the Saar River by month's end.
On August 1st, Walter, in command of two fuel trucks, was attempting to return to his unit. The small convoy found themselves in St. James, France, which, which unknown to them, had been retaken by the enemy. They came under heavy mortar and small arms fire but Walter's quick thinking enabled them to get both trucks out of danger and to their desired destination. The vehicles and cargo received only slight damage and there were no injuries to personnel. For his actions, Walter was awarded the Bronze Star.
The 704th was deployed to the Ardennes on December 19th and fought around Bastogne in January, 1945. They then moved back south, advancing into Germany near Sinz in February, fighting through Siegfried Line fortifications and into the Saar-Moselle triangle. Supporting the drive to Bitburg in March, they reached the Rhine by mid-month, crossing the river on March 24th at Nierstein. Roaring east to Gotha by 4 April, they passed through the Harz Mountains to Bayreuth in late April. The 704th entered Czechoslovakia at Volyne on May 6th.
In addition to the Bronze Star, he also received a Purple Heart. Walter left the service at the rank of Technician 5th Grade.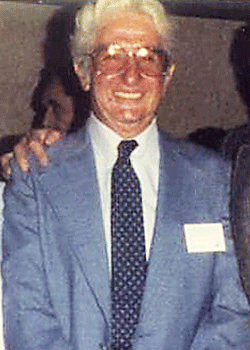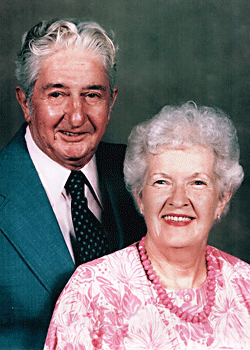 After the war, Walter returned to Illinois where he married Lucille M. Busby and together they had two sons, Terry and Frank. Walter did many jobs over the years, including, bar tending, truck driving, county jail guard, Ford Motor Company plant guard, gas station attendant, overhead crane operator and school bus driver. Obviously, his 23 years with the Chicago Police Department was an impressive accomplishment and he retired from the force as a Sergeant. Walter was a member of the VFW and DAV (Disabled American Veterans) as well as the American Legion.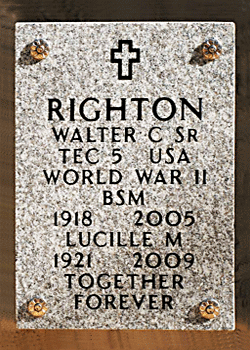 Walter passed away on January 10, 2005, and was buried at the Abraham Lincoln National Cemetery in Illinois. I want to thank Erwin Verholen for providing this information.