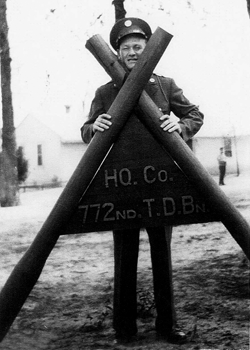 Harvey H. Rots
Biography: Harvey H. Rots was born on June 20, 1916, in Detroit, Michigan. He was the son of Alphonse and Elode Rots and attended Grosse Pointe High School.
Service Time: Harvey entered the service on June 10, 1941, believing he would be able to leave the next spring after a year of service. That "year" lasted the duration of the war, with Harvey serving in the 772nd Tank Destroyer Battalion which saw action across Europe and Germany and was in Belgium during the Battle of the Bulge.
When Harvey returned to the U.S., he married the former Dorothy Gayle Corley. She was the daughter of Harry Corley and Alva Johnson and was also from Detroit. Together, the couple had two sons, Martin, born in 1952, and Timothy in 1960. Harvey worked as a carpenter to support his family.
Harvey passed away in September of 1992, and was buried in his home state of Michigan.
I want to thank Harvey's son, Marty, for supplying the information and photo used in this tribute.