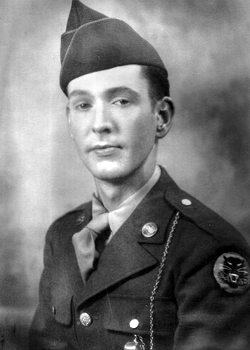 Charles K. Rathbun
Biography: Charles "Chuck" Kendrick Rathbun was born on December 20, 1920, in East Troy, Pennsylvania. He was the son of Kendrick and Ruby Kennedy Rathbun and was a graduate of Troy High School. After graduation he worked in the local foundry.
Service Time: Chuck was inducted into the Army on October 2, 1943, at Wilkes Barre, PA and went on to serve in the 806th Tank Destroyer Battalion. The unit shipped out on August 12, 1945, in preparation for the invasion of Japan. The 806th was stationed in the Philippines until returning to the U.S. on March 28, 1946. As identified by his discharge, he received the American Campaign Medal, the Asiatic-Pacific Campaign Medal and the WWII Victory Medal for his service. He had reached the rank of sergeant.
When Chuck returned from overseas, he served an additional tour of duty as a military police officer. He later returned to Bradford County, PA, and worked at the Troy Engine and Machine Co. In the mid-1950's, he moved to the Elmira, NY area and worked for the Westinghouse Company until his retirement in 1981.
Chuck married and had four sons, Gary, Charles, Dennis and Larry (shown in the photo below, L to R: Charles, Larry, Gary and Dennis). In his spare time he enjoyed learning to fly and piloting small aircraft in and out of the Chemung Airport. He also enjoyed square dancing, camping and traveling. He was a member of the Elmira Heights American Legion.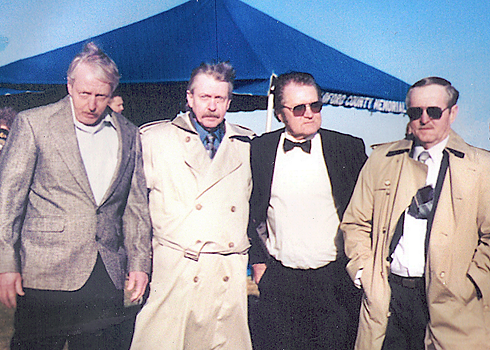 In 1976, Chuck married the former Geraldine Morgan and they were together for 26 years until his death on February 5, 2002. His obituary identifies that at the time of his death, he had 13 great-grandchildren and 21 step-great-grandchildren. He was buried at the Bradford County Memorial Park. I want to thank his son, Larry, for supplying the photos and information.