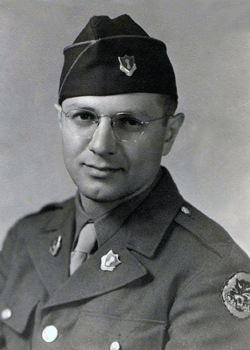 Alfred Rizzuto
Biography: Alfred Rizzuto was born on February 28, 1913, in Rome, New York. He was the son of Joseph Rizzuto and Catherine Elia Rizzuto and attended the Rome Free Academy, graduating in 1930. From 1933 to 1934, he worked for the CCC (Civilian Conservation Corps) in Idaho and Tennessee and from 1934 through 1942, he worked for Revere Copper and Brass in their Rome, NY, division.
Service Time: Alfred entered the service on December 23, 1942, and was assigned to the Reconnaissance Company of the 644th Tank Destroyer Battalion. The unit saw action throughout Europe, receiving credit for five campaigns; Normandy, Northern France, Rhineland, Ardennes-Alsace and Central Europe. Their involvement in the Battle of the Bulge earned them the appreciation of the Belgium Government and the award of the Croix De Guerre. Alfred left the service on December 13, 1945, at the rank of Technician Grade 5.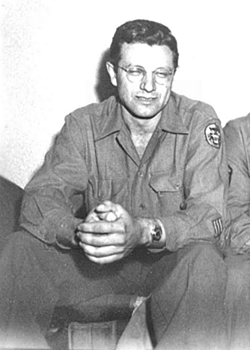 The photo at left was taken in June of 1945 while he was stationed in Rassel, Germany.
When Alfred returned to the U.S., he married the former Beulah M. Tritsch in 1948. She was the daughter of Albert John Thomas Tritsch and Ada L. Peckston, also of Rome, NY. The couple made their residence in Rome until later in life when they moved to Brantingham, New York and then Orlando, Florida.
Alfred worked at Griffiss Air Force Base, which is located in his hometown of Rome. He remained there from 1951 to 1974, working as a civilian employee. In his spare time, he enjoyed a number of outdoor sports including hunting, fishing and golf. He was a member of the National Rifle Association as well as a number of area golf and country clubs.
Alfred passed away on February 15, 1993, and was buried in the Rome Cemetery, Rome, NY. I want to thank his nephew, Anthony LaGatta Jr., and great-nephew, David LaGatta, for providing this information and the photos of him.