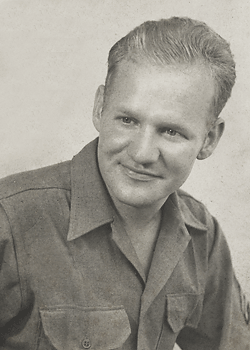 Thomas R. Rohland
Biography: Thomas "Tom" Ray Rohland was born on April 19, 1919, in Huntingdon, Pennsylvania. He was the son of Thomas Walton Rohland and Connie Louise Numer. He attended various local schools in the Huntingdon area and also classes at Juniata College for a time. Prior to entering the service, Tom worked part-time as a truck driver for the Pennsylvania Railroad and as a supply room attendant at Juniata College. While stationed at Camp Atterbury in Edinburg, Indiana, he met Wilma Jean Brown at a USO gathering. Wilma worked for the U.S. Navy, in Indianapolis, making Norden Bomb Sights for their planes. She was the daughter of Montgomery Brown and Mary Ruth Gregg and was born in Morgantown, IN. The couple married on Dec. 21, 1943, in Franklin, Indiana and they resided in Martinsville, IN.
Service Time: Tom entered the Army on March 17, 1942, at New Cumberland, PA. He was originally assigned to Company C of the 608th Tank Destroyer Battalion. The unit was formed and trained at Fort Jackson, South Carolina, but eventually received deactivation orders. On Dec 18, 1943, the 608th was disbanded and the personnel were transferred to other units. Numerous men were sent to the 607th TD Bn, and Tom was assigned to Company A. He continued combat training with the 607th and at some point, attended an electronics school. The unit arrived in England in April, 1944, and landed on Utah Beach in June, eventually receiving credit for the Normandy, Northern France, Rhineland, Ardennes and Central Europe campaigns. Tom served as a co-driver/radio operator on an M-36 Tank Destroyer. He also pulled radio duty for the unit many times since he had learned the German language from a Jewish neighbor when he was growing up in Huntingdon. Following the end of the war, he was transferred to the 771st TD Bn, as were many 607th personnel. The unit performed occupation duties and he finally returned home on November 9, 1945, aboard the USS Joseph Nicholson which sailed from Marseille, France. Tom earned the following medals: American Theatre, EAME w/5 Bronze Stars, Good Conduct and WWII Victory. He was discharged at Camp Atterbury, Indiana, on December 2, 1945, and left the service at the rank of Corporal.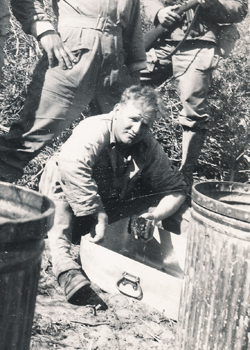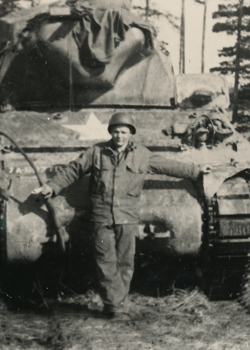 The photo above left shows Tom pulling some KP duty while at Camp Cooke, California, in 1944. The right photo is Tom standing with his M36 Tank Destroyer.
Post-service Time: Tom returned to Martinsville following his discharge from the service. After several years, due to the poor economy in the area, he moved the family back to Huntingdon. Over the years, he worked as a photographer for the local Huntingdon newspaper and as an electrician for Huntingdon Fiberglass (owned by Corning). The family later moved back to Indiana where Tom owned and operated a TV, radio and appliance sales and repair business, until he retired in 1981. He and Jean eventually had five children; Kenneth born in 1948, Gary Duane in 1951, Carol Jean in 1953, Connie Jo in 1954 and Gregg Lee born in 1960.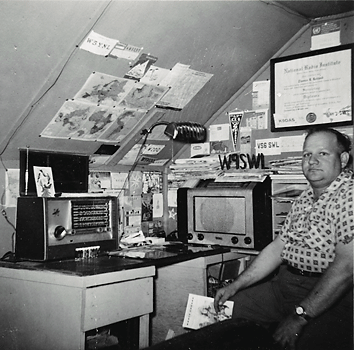 Tom was very active in the Paragon Baptist Church (where he was the Sunday school superintendent and sang in a quartet) and was a member of the VFW, the NRA and the Oddfellows Lodge of Martinsville, IN. He always loved his photography, amateur radio, fishing and traveling to Civil War battle sites.
Tom passed away on January 25, 1986 and was buried in Friendship Park Cemetery, Paragon, Indiana.
We would like to thank Tom's daughter, Carol, for providing the information and photos used in this tribute.