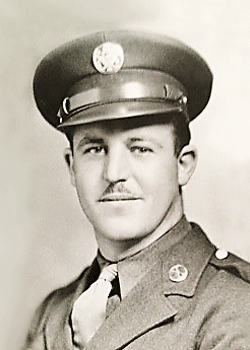 Roman J. Rau
Biography: Roman Joseph Rau was born on December 11, 1911, in St. Cloud, Minnesota. He was the son of Lambert Rau and Mary Blommer and attended St. Mary's Grade School. He went on to attend Cathedral High School, working at Rubald Beverage Distribution and then at Gussy's Shoe Repair as a shoe repairman.
Service Time: Roman entered the service and was assigned to B Company of the 636th Tank Destroyer Battalion. The 636th saw action throughout the Mediterranean and Europe, landing in Algeria in April of 1943 and then Italy in September. They received credit for 7 campaigns; Naples – Foggia, Anzio, Rome Arno, Southern France, Rhineland, the Ardennes and Central Europe. Roman received a Bronze Star for his actions with the unit.
After returning to the U.S., Roman married the former Beatrice Barbara Bull on February 7, 1948. The couple made their home in St. Cloud and raised 5 daughters, Jane born in 1949, Mary in 1950, Heidi in 1953, Rhonda in 1954 and Julie in 1957.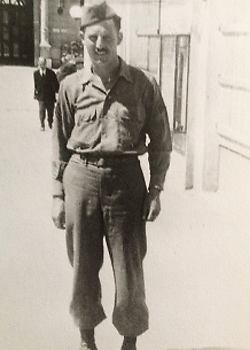 Roman purchased his old place of work, Gussy's, and changed the name to Romie's Shoe Repair. He operated the business for 31 years. In his spare time, he enjoyed golfing and bowling and belonged to the 300 Club. He was also a musician, playing both the harmonica and the accordian and he also had a beautiful singing voice. Roman was a member of the VFW and the Knights of Columbus.
Roman passed away on June 23, 2002, and was buried in the Calvary Cemetery in St. Cloud. I want to thank Roman's daughter, Julie, for providing the information and photos for this tribute.