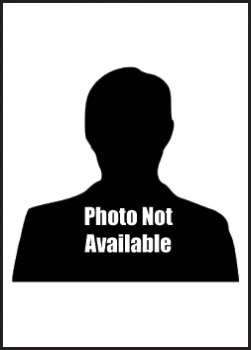 Donald E. Rexford
Biography: Donald Eugene Rexford was born April 3, 1919, in Morris, Tioga County, Pennsylvania. He was the son of Clark Rexford and Lela Comstock. Donald was a graduate of Wellsboro High School, where he excelled in golf and basketball. He attended Temple University where he was the first freshman ever to win the University golf championship.
Service Time: Donald enlisted in the Army on January 13, 1941 at Upper Darby, PA. While we don't have information on his early military career, he was eventually assigned to the 6th Tank Destroyer Group. The 6th was activated at Camp Hood, Texas on Sep. 1, 1942. The unit moved to Camp Young, California on Jan 8, 1943, which was part of the Desert Training Center. They then moved to Camp Maxey, TX on Jul. 31, 1943, as part of the Third Army.
They were prepared for shipment at Camp Kilmer, New Jersey, on Jan. 16, 1944, and shipped from the New York Port of Embarkation on Jan. 29, 1944. Arrived in England on Feb. 5, 1944 and then shipped to France, landing on Jul. 25, 1944. Acted as part of Task Force "A" VIII Corps of Third Army. Beginning Sep. 5, 1944, unit supported XIII Corps, Ninth Army, as their Anti-Tank section. Moved into Belgium on Oct. 24, 1944, and then into Holland on Nov. 6, 1944. They then moved into Germany on Mar. 16, 1945. During the occupation, he was amateur champion in the Third Army golf tournament received a Swiss watch as a prize. He also played exhibition games around Europe.
Donald left the service on October 7, 1945 at Indiantown Gap, PA. At that time, he was a 1st Sergeant, having refused a field commission in order to remain with his unit. He was awarded the Bronze Star, Purple Heart, Good Conduct, EAME, with credit for the campaigns of Normandy, Northern France, Rhineland and Central Europe, and Occupation of Germany medals.
Returning to the U.S., Donald married the former Edna H. Scureman on September 21, 1945. She was from Wellsboro and was the daughter of Charles G. Scureman and Edna E. Haines. They moved to Buffalo, New York, in 1947, where he worked as a builder and as the manager of the kitchen division in a major department store. They had one daughter, Nancy.
After retiring, he and Edna returned to Wellsboro where his interests included fine cabinet making and restoring antique furniture. He was a member of the United Church of Christ in Buffalo and a former vice president of the Tioga County Historical Society. Donald also had a beautiful singing voice and played the violin, but enjoyed playing golf the most.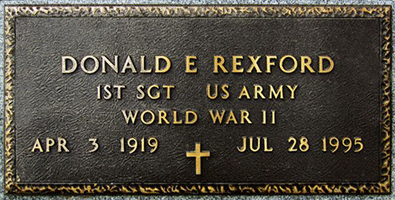 Donald passed away on July 28, 1995, and was buried in the Oregon Hill Cemetery, Lycoming County, PA. We would like to thank Find a Grave contributor Conservative Patriot for use of the grave marker photo.