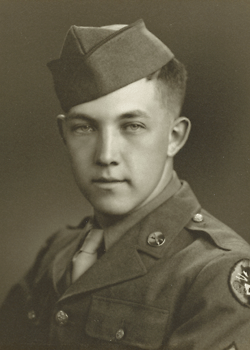 Howard V. Redfern
Biography: Howard Vernon Redfern was born on February 17, 1924, in Sault Ste. Marie, Michigan. He was the son of Vernon Redfern and Leola Dunning and attended school in Saginaw.
Service Time: Howard entered the service and was assigned to A Company of the 691st Tank Destroyer Battalion, serving as a gun commander. The 691st entered combat at Nancy, France, in September of 1944. They moved to the Ardennes in December and then south to join operations in the Saar Region. In March, 1945, they converted from towed guns to the M36 and reached Limbach by April.
The unit received credit for four campaigns; Northern France, Rhineland, the Ardennes and Central Europe. Howard left the service at the rank of Corporal.
Howard returned to the U.S. and married the former Sophia Wozniak. He returned to school, graduating from Michigan State University with a degree in Landscape Architechture. He would always be a huge fan of the school and was always seen wearing the school's green and white and singing the MSU fight song. Howard worked for the Dow Chemical Company and started his own business for a while. He also worked for an architectural firm and later worked for the State of Michigan Management and Budget Division. He retired in 1988 to his home in Torch Lake, Antrim County, Michigan.
On September 21, 1990, Howard married Evelyn Oakes, in Ionia. They couple made their residence in Bellaire. They attended the Church in the Hills, also in Bellaire. Howard passed away on April 24, 2013, leaving behind 5 stepchildren, 12 grandchildren and 7 great-grandchildren.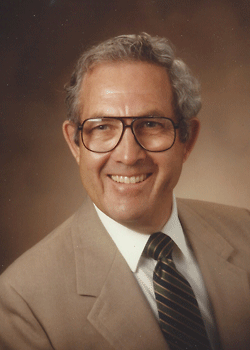 I want to thank Howard stepson, Tom, for providing the materials for this tribute.