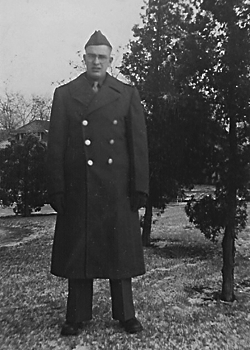 Paul F. Rohloff
Biography: Paul Fred Rohloff was born in 1922. He was the son of George A. Rohloff and Ida Felgenhauer and had one brother, Milton. Although both his parents were born in U.S., their heritage was German and Paul spoke German, not English, until he was about 12. He graduated from high school in 1940 and his enlistment record identifies that he later worked as a welder.

Service Time: Paul entered the service on December 23, 1942. He was trained as a tank destroyer replacement soldier and shipped out from New York on May 3, 1943, arriving in North Africa on May 24, 1943. He was assigned to Company B of the 899th Tank Destroyer Battalion, serving as a radio operator in a TD. He continued with the unit during operations in Italy and their landing on D-Day, at Utah Beach, in Normandy.
The 899th helped capture Cherbourg in late June and supported the Cobra breakout in late July. They advanced through Mayenne and entered Belgium on September 2, 1944. Paul's TD, along with three others, was in the vicinity of Chimay. Early on a very foggy Sunday morning, with hedgerows on both sides of the road, they came to a crossroad and were immediately hit at point-blank range. Paul remembered seeing the round coming because it was glowing red. It had been fired from a German howitzer, which had been set-up there in ambush. The TDs driver, Guy L. Bebb, was killed instantly and the gun commander and gunner were severely injured. Paul and the gun-loader were badly burned. Paul wasn't able to get out on his own but recalled being pulled out and thrown into a ditch along the road. He was conscious through the entire ordeal as the battle continued around him. Eventually, the medics came and provided some preliminary treatment to burns on his face, both hands and his right leg. Later, he was quick to thank the Medical Corps for the treatment they gave him. One of the other TDs was also destroyed, leaving two which were able to continue and destroy the German gun.
As was normal procedure, a message was sent to Paul's family, via Western Union. His mother didn't initially open it but had the Lutheran Minister come to the house, so they could open it together.
Paul was soon sent to a field hospital, where he spent two days before being taken to a hospital in Paris. That hospital had been set up by the Germans and had German equipment and some German patients, including a General. He was then flown to Salisbury, England, where he was treated for six weeks at an American hospital. From there, he was flown to Scotland and loaded on a large transport plane, returning to the U.S. on November 25, 1944. He was finally treated at the Northington General Hospital in Tuscaloosa, Alabama, which specialized in the type of surgery he would need. In addition to Paul, SSgt. Forrest D. Brown survived. Cpl. Stanley J. Juva and Sgt. James Condron died of their wounds. As mentioned earlier, T/5 Guy L. Bebb was killed during the initial attack.

Local Boy Wounded Article – April 5, 1945
Paul was discharged from the service on February 22, 1946, while still at Northington General. He received the Purple Heart, American Campaign medal, Good Conduct medal and the EAME medal with credit for four campaigns, including Naples-Foggia, Normandy, Northern France and Rhineland. He left the service at the rank of Private First Class.
Paul suffered from the lingering affects of his wounds for the rest of his life. The scars and skin grafts required continued treatment and he was told that he would eventually go blind. His hands had been badly damaged and were very sensitive to the cold of winter. Over the years, he never went to the Veterans Administration Hospitals, preferring to see private doctors. Many of them never sent him a bill, showing their appreciation for what he had done for this country.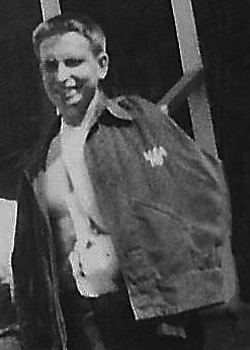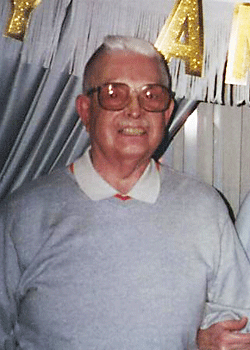 Paul's injuries were severe but they didn't keep him from living a full life. He went back to school on the GI Bill, graduating from college and becoming a grammar school science teacher. While in school, many would stare at him and ask why he looked like he did, his explanation of how he came to receive his wounds quickly silenced their questions. Paul was pationate about teaching and loved by his students.
Paul married on March 13, 1948, and the new couple had two children, Richard born in 1949 and Sharon in 1951. Paul passed away in 2001. To this day, his family is still asked about their father and informed of the impact he made in the lives of his students.
I want to thank Paul's son, Richard, for providing the information and photos for this tribute.
*************************************
It is interesting to note that Paul's father, George, served in WWI as part of the 33rd Infantry Division. On October 9, 1918, he was shot, under the heart, by a machine gun. It was during the unit's fifth attempt to go "over the top" of some enemy held ground. The location was only 80 to 100 miles from where his son Paul was injured. George never fully recovered from the wound and died at the age of 49. He is also buried in the same cemetery as his son.