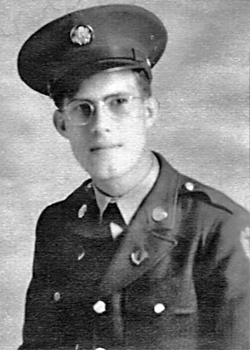 William P. Rutledge
Biography: William Pinckney Rutledge, nicknamed "Pete", was born on May 18, 1921, in Houston, Texas. He was the son of Donald V. Rutledge and Birdie Viola Cassels and attended Marshall High School. Pete joined the National Guard, which prepared him for his future service.
Service Time: Pete entered the Army on November 25, 1940, at Houston, TX, and was assigned to C Company of the 636th Tank Destroyer Battalion. The unit arrived at Oran, Algeria, on April 13, 1943, in preparation for actions in Italy. They landed at Paestum, Italy, on September 13, and performed a number of functions including artillery missions, guarding of the 5th Army Command Post and training of British troops on the M10 TD. The unit supported the assault on San Pietro in late November and then the Rapido River crossing in January 1944. They were transferred to the Anzio beachhead and entered Rome in early June.
The 636th boarded transports and landed in Southern France on August 15 and were the first to enter Lyon and reach the Moselle River. They moved into the Vosges Mountains and relieved the 601st TD Battalion, in Strasbourg, before battling the German Norwind offensive in January and February of 1945. At the end of the month, they converted to the M36 and attacked the Siegfried line before crossing the Rhine and making a dash to Nürnberg. Pete was awarded the Bronze Star and left the service at the rank of Sergeant.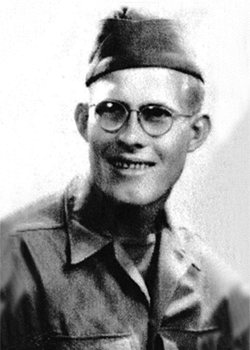 Pete returned to the U.S. and worked at a variety of jobs before finding his place at the Houston Chronicle. On July 3, 1971, he married the former Elizabeth Ida Robertson. She was born in Houston and was the daughter of Arthur John Robertson and Edna Maude McCracken. The new couple made their home in Bellville, TX. Pete retired after 20 years with the paper and then worked as a store greeter. In his spare time, he enjoyed fishing and traveling. Some of their destinations included Hawaii, Mexico, Italy and Jamaica.
Pete passed away on June 17, 2012, and was buried in the Pilgrims Rest Cemetery in Bellville.