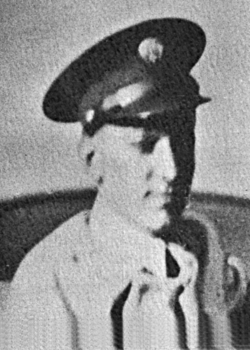 Clinton Reedy
Biography: Clinton Reedy was born on March 15, 1920, in Fremont, Virginia. He was the son of Russell Lee Reedy and Fallie Layne and attended local schools through the 9th grade. His enlistment record identifies that he worked as a truck, tractor or taxi driver. Another reference mentions that he was a general laborer.
Service Time: Clinton entered the service on September 28, 1942, at Camp Lee, Virginia. He received his basic training and became a Private in the Field Artillery. He was sent to Camp Hood, Texas, where he joined the 802nd Tank Destroyer battalion with 403 other fresh recruits. He was specifically assigned to 3rd platoon of Company C.
When Clinton entered the service, he was single, but on October 19, 1943, he married the former Ada Stanley at Bristol, Tennessee. She was the daughter of Nelson Stanley and Emma Lambert and lived in Clintwood, Virginia while Clinton was serving overseas.
The 802nd received additional training at Camp Polk, Louisiana, and participated in the Louisiana Maneuvers under the 3rd Army, while attached to the 11th Armored Division, 31st, 88th and 95th infantry Divisions, and the 10th and 11th Tank Destroyer Groups at various times.
They then moved to Camp Claiborne, Louisiana, for three months before moving to Camp Klimer, New Jersey, for final preparations before shipment overseas. They loaded on the troopship Ile de France and left the New York port on April 7, 1944, arriving in Scotland on the 15th. On July 1st, they landed in Northern France as a towed battalion with 3″ guns. They entered battle near Carentan three days later and advanced into Brittany, supporting the attack on St. Malo in August. The 802nd crossed France and entered Luxembourg on September 23rd, supporting operations against the Siegfried Line through November. They participated in the Battle in the Bulge in Luxembourg in late December.
During January, 1945, the unit was attached to the 4th Infantry Division and tasked with defending against enemy tank attacks. The firing companies were attached to the infantry regiments with individual platoons in support of division artillery for indirect firing missions. On January 14, third platoon was on a secondary mission in support of the 44th Field Artillery Battalion and was carrying out harassing fire mission on the town of Godendorf.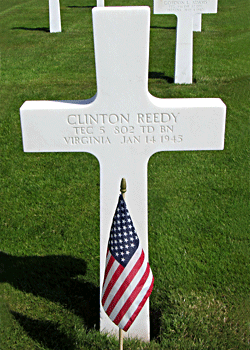 At 1430 hours, the unit was in the vicinity of Mensdorf, Luxembourg, and was strafed by what looked like multiple American P-47 planes and another twin motor plane with German markings. While attempting to camouflage his vehicle, Technician 5th Grade Clinton Reedy was killed. Three others were wounded or injured in the same time. Although denied by the Air Force, it is believed that the planes were captured units being flown by German pilots.
Clinton was buried in the Luxembourg American Cemetery , Plot E, Row 12, Grave 56. Back home, his wife Ada had a child, a son named Stanley. I want to thank Clinton's relatives, Jeff and Dennis Reedy, for providing the photo of Clinton and information for this tribute. Thank you to the American Battle Monuments Commission for providing the image of Clinton's grave marker.