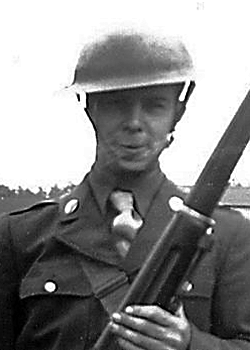 Roland E. Rainey
Biography: Roland Edward Rainey was born on January 27, 1919, in Pawtucket, Rhode Island. He was the son of George L. Rainey and Florentine Trudell. He attended local school through the grammar level and his enlistment record identifies that he worked in the manufacture of textiles prior to the war.
In 1941, Roland married the former Rose Mary Finnegan who was born in Keene, New Hampshire, and was the daughter of Stephen Francis Finnegan and Sarah Jane Devlin.
Service Time: Roland entered the service on July 15, 1941, at Providence, RI. He was assigned to the Reconnaissance Company of the 644th Tank Destroyer Battalion. His served as a radio operator and qualified as a Marksman with the Carbine rifle.
The 644th shipped out on January 2, 1944, from the New York port and arrived at Gourock, Scotland, on January 12th. After a few months of additional training and preparations, they boarded transports and landed at Utah Beach, France, on July 11th and 12th. They were equipped with M10s and committed to battle south of Le Haye Du Puits with the 8th Infantry Division on July15th.
They participated in the Cobra breakout beginning on July 26th and advanced into Brittany in August. They helped capture Brest in early September and then moved to Luxembourg in late September, fighting in the Hürtgen Forest in November. Companies A and C moved to the northern Ardennes sector by early December and participated in the Battle of the Bulge, with Company B arriving late in the game, joining in the elimination of the Bulge in early 1945 and the Roer River offensive in February. They reached the Rhine River south of Cologne in March and crossed at Remagen, supporting the reduction of the Ruhr Pocket in April. The unit finally swung eastward to the Elbe River and rolled toward the Baltic coast with the 82d Airborne Division, stopping in Schwerin.
Roland received credit for each of the unit's campaigns including Normandy, Northern France, Rhineland, Ardennes-Alsace and Central Europe. He received the EAME Medal, American Defense Medal, and the Good Conduct Medal. He left the service at the rank of Private First Class.
Roland returned to Rhode Island, living in Hoxie. He found work as a shipping clerk and he and Rose Mary had two daughters, Rosemary, born in 1946, and Patricia in 1947. In his spare time he enjoyed baseball and photography.
In December of 1948, Roland passed away from a blood disorder. I want to thank Roland's granddaughter, Destyn, for providing the information and photo for this tribute.