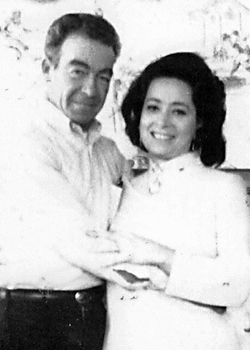 Robert E. Robinson
Biography: Robert Eugene Robinson was born on September 8, 1922, in Lodi, Wisconsin. He was the son of Irvin E. Robinson and Harriet Olive Wright and attended Madison East High through the 11th grade. After leaving school, he was employed by the McFadden & Inglehart Construction Company in Madison, WI, as a heavy truck driver. He also did servicing on the trucks.
Service Time: Robert entered the service on January 16, 1943, at Fort Sheridan, Illinois. He received basic training as a tank destroyer crewman and then functioned for the next year as an basic training instructor. He qualified as a Marksman with the rifle and as an Expert with the Carbine.
On September 18, 1943, while on leave, Robert married the former Sylvia Agnes Schroeder. She was born in Madison, WI, and was the daughter of Adam Schroeder and Anne Heine. The couple made their home in Madison and they had their first child, a son, Charles, born in 1944. Robert was assigned to Company A of the 630th Tank Destroyer Battalion and shipped out with them from the New York port on June 3rd. They arrived in England on the 12th and after a month of preparations, they disembarked in France on July 24, 1944. They were equipped with towed 3″ guns.
The towed guns were used many times as artillery, receiving targeting information from the front lines. Robert served as a Computer Fire Director, which required him to calculate the necessary gun adjustments to hit the targets. He provided that information for two platoons of guns. The unit entered the line near Colombieres and advanced across France with the 28th Infantry Division to Luxembourg. They supported operations against the Siegfried Line in September and October and operated in the Hürtgen Forest in November. They shifted to the Ardennes sector with the 28th Infantry Division in late November, and were still located there at the start of the German offensive in December. They shifted south to the Colmar area in January, 1945, where the 28th Infantry Division was operating under French control.
While in Belgium, Robert, as well as other members of the unit, stayed with local families. He left his name and address so that they could write to him after the war. The family kept that note to this day.
The 630th returned north in mid-February only to redeploy south to the Saar region in mid-March, after which the battalion converted to the M36 tank destroyer. Robert then functioned as a TD Commander and participated in the elimination of the Ruhr Pocket in April. They then took up occupation duties at Zweibrücken on April 28th. At some point Robert was transferred to Company A of the 654th Tank Destroyer Battalion, probably after the war had ended and members of the 630th were being sent home on points.
Robert received credit for the campaigns of Normandy, Northern France, Ardennes-Alsace, Rhineland and Central Europe. He received the following medals: WWII Victory, American Theater, EAME and Good Conduct. He shipped home on November 14th, arriving back in the U.S. on the 27th. He left the service on December 3, 1945 at Fort Sheridan, Illinois. He had reached the rank of Corporal.
Robert returned home to Sylvia and found work as a driver for the Thomas Bakery Company. He then went into business with an old school friend, opening Robinson's Antennea Service, which was very successful. The company had a number of crews that erected antenneas around the Madison area. He also went back to school, attending Madison Vocational & Technical College to get his GED. When he wasn't putting up an antenna, he worked as a security guard to keep busy. He and Sylvia had three more children, a daughter Marcia born in 1946, Danny in 1948, and Randy in 1949. In his spare time, he enjoyed boating, fishing and golf. He was also a member of the VFW, Elk's Club, Masons and made time to be a Den Leader for his sons' scout troops.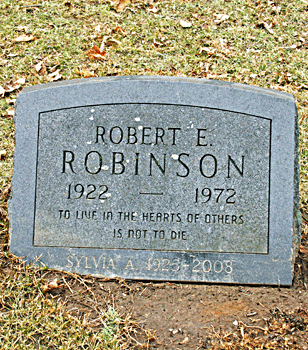 Robert tragically died on March 25, 1972, as the result of a fall from an antenna tower. He was buried in the Forest Hill Cemetery in Madison, WI. I what to thank his daughter, Marci, for providing information and the photo of her parents. I want to thank Jean-pol Marenne and his mother Orban from Bertrix, Belgium, for providing additional information and the documents for this tribute. As mentioned before, Jean-pol's mother kept Robert's name and address since the war.