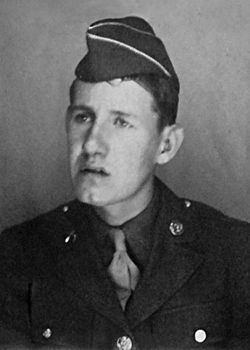 Elwood E. Roberts
Biography: Elwood Edward Roberts was born on June 10, 1925, in Wingo, Kentucky. He was the son of Lowell Thomas Roberts and Mable Clara Hirsch and attended local schools through the grammar level.
Service Time: Elwood entered the service on September 10, 1943, and after his basic training was assigned to a unit and sent to the Pacific Theater. We have limited information on this portion of his service but he may have been part of an Infantry unit involved in the New Guinea and/or Solomon Campaigns in late 1943.
He contracted Malaria and was sent back to the U.S. for medical treatment. After he recovered, he was assigned to the 824th Tank Destroyer Battalion. It is not clear when he joined the unit but he shipped out with them from the New York port on October 14, 1944. They arrived in Marseilles, France, on October 29th, equipped with the 3″ towed gun and were deployed near Sarrebourg on November 27th. They fought around Bitche and against the Siegfried Line in December, then battled the German Nordwind Offensive in January 1945.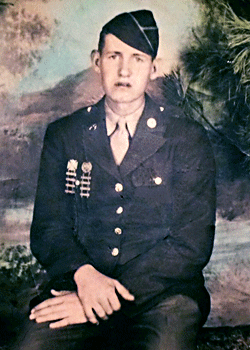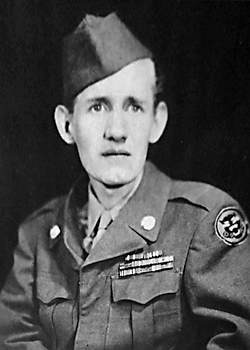 The unit converted to M18 tank destroyers in March and crossed the Rhine on the last day of the month. The 824th joined the stiff fight at Heilbronn on April 8th and then advanced to the Austrian border by month's end. They cleared the Bavarian mountains and took Innsbruck in early May.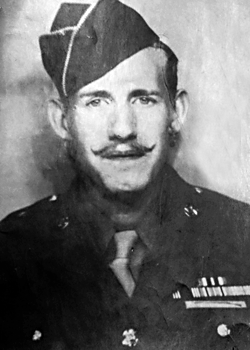 Elwood was authorized to wear both The Asiatic-Pacific and EAME Theater ribbons. He also received the World War II Victory, American Campaign, Army of Occupation for Germany and the Good Conduct Medals. He received credit for one campaign and left the service at the rank of Private First Class.
While serving on occupational duty after the war, Elwood met Elisabeth Obermuller at a dance held just outside Munich, Germany. Elwood was shipped home but the relationship that they had started was tested over the next three years, which was how long it took for him to bring her to the U.S. Eleanor Roosevelt was on the same flight as Elisabeth coming to America and Mrs Roosevelt took the time to wish Elisabeth well in her new country. Elwood and Elisabeth were married on December 28, 1948, and made their residence in St Louis, MO.
Elwood went to work for the Frisco Railroad at Union Station in St. Louis as a railroad carman. As part of his duties, he inspected freight cars and did periodic maintennace and repair of the cars. While working, he had the opportunity to meet President Harry S. Truman twice. The couple had two children, Edward and Linda. In his spare time, he enjoyed collecting guns and coins and TV repair.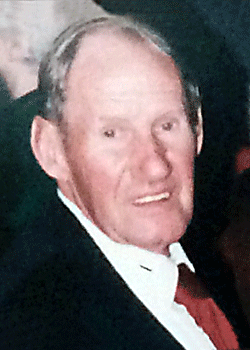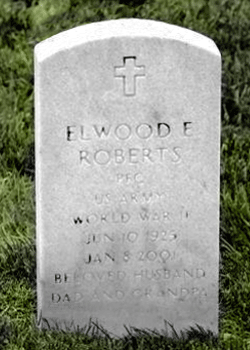 Elwood passed away on January 8, 2001, and was buried at the Jefferson Barracks National Cemetery in St. Louis. I want to thank Elwood's son, Edward, for providing information and photos for this tribute.