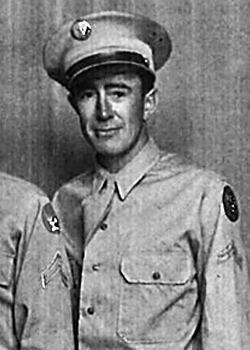 Lester M. Ross
Biography: Lester Marvin Ross was born on September 27, 1911, in Boone County, Iowa. He was the son of John William Ross and Margaret Otterbine and attended the Cole School, which is a one-room brick school house, just a few miles northeast of Boone.
When he wasn't in school, he worked on the farm was and later employed as a painter on the Kate Shelley High Bridge in Boone County. In the late 1920s to mid 1930s, Lester served in the National Guard, specifically C Battery of the 185th Field Artillery. As of August 12, 1930, he held the rank of Corporal.
Lester married the former Mildrid Mitchel and the new couple hade a son they named John Marvin. It is believed that Lester's relationship with Mildrid ended prior to the war.
Service Time: Lester entered the service and was assigned to Headquarters Company of the 661st Tank Destroyer Battalion and trained with them at various military facilities within the U.S., including Camps Hood, Swift and Bowie, Texas, Camp Claiborne, Louisiana and Camp Chaffee, Arkansas.
The unit was ordered to Camp Shanks, New York, and arrived on December 22, 1944, where they made final preparations for shipment overseas. They boarded a ship on January 9, 1945, and arrived at Le Havre, France, on the 21st. The unit was equipped with M18 tank destroyers and were quickly committed to battle at Rocherath-Krinkelt, Belgium, on February 16th. Fighting along the Siegfried Line near Helenthal, Germany, in March, they crossed the Rhine on March 27th and advanced across Germany to Leipzig by April 17th, where the men saw their last fighting.
The unit received credit for the campaigns of Rhineland and Central Europe and Lester left the service at the rank of Private First Class.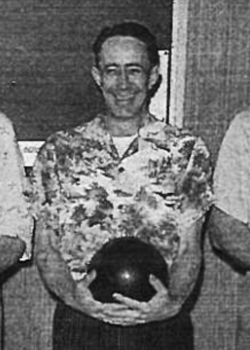 After the war, Lester married the former Marie C. Fischer who was born in Altamont, Illinois. In 1948, the couple had a son, Lester Leroy, and made their home in Boone, Iowa. Lester worked as a Parts Manager for a Studebaker, Dodge, Chrysler, Plymouth car dealership.
In his spare time, Lester enjoyed bowling and was a member of the Trinity Lutheran Bowling Team and a member of the American Bowling Congress. He was also a member of the VFW and the American Legion. Lester passed away on June 15, 1984, and was buried in the Boone Memorial Gardens Cemetery in Boone, IA.
I want to thank Lester's son, Lester Leroy, for providing the information and photos of his dad for this tribute. I want to thank Sunshine for the use of the grave marker photo. I also want to thank both of Lester's sons for their service to this country. John Marvin served in the U.S. Army Medical Corp. and retired as a CSM (Command Sergeant Major). Lester Leroy served in the U.S Army and Iowa National Guard in both Vietnam and Desert Storm. He retired at the rank of MSG (Master Sergeant).