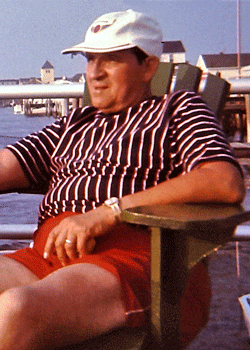 Lewis L. Strohl
Biography: Louis Laury Strohl was born on May 14, 1912, in Northampton County, Pennsylvania. He was the son of Milton Erwin Strohl and Agnes Mae Laury and attended local schools through the 11th grade. His enlistment record says that he worked as a chemist, assayers, or metallurgists, probably in the steel industry, prior to the war.
Service Time: Lewis entered the service on March 26, 1942, at Fort George G. Meade, Maryland. At some point, he was assigned to the 705th Tank Destroyer Battalion, which shipped out from the New York port on April 18, 1944. They arrived at Gourock, Scotland, on April 27th and after three months of additional training and preparations, they boarded transports and landed at Utah Beach on July 18th. The unit entered combat equipped with M18 tank destroyers.
The unit joined the Cobra breakout and swept through Brittany to Brest in late July and early August as part of Task Force A. They helped clear the Crozon Peninsula into September and moved across France in October to the Moselle River. Advancing to the German border at Kitzing in mid-November they shifted north to the Aachen area in early December. The 705th moved to Bastogne, where their TD's participated in the famous defense by the 101st Airborne Division.
They supported the drive to Rhine River in March 1945, and crossed on March 29th at Oppenheim. The unit drove across Germany through Bayreuth in April, arriving in Neukirchen, Austria, by May 6th. The 705th received credit for the campaigns of Normandy, Northern France, Rhineland, Ardennes-Alsace and Central Europe. Lewis left the service on November 12, 1946, at the rank of Private.
Lewis returned to the U.S. and was employed by the Bethlehem Steel Company as a steelworker. He picked up the nickname "The Baby Bull", because he was not overly tall but stocky and strong-looking. He married the former Dorothy G. Kirkpatrick sometime after 1949, after the passing of her first husband. Dorothy had been born in Bethlehem, Pennsylvania, and was the daughter of Robert Morris Kirkpatrick and Bessie Elda Eddinger. The couple made their home in Bethlehem with seasonal visits to Ocean City, New Jersey, for vacations with their extended family.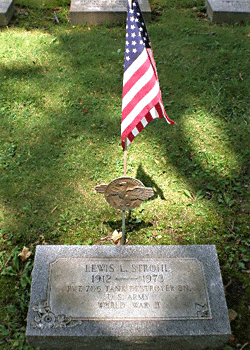 Lewis passed away on March 11, 1973, and was buried in the Nisky Hill Cemetery in Bethlehem. I want to thank Lewis' nephew, Tom Kirkpatrick, for providing the information and photo of his uncle. I want to also thank Tom Myers for the use of the grave marker photo.