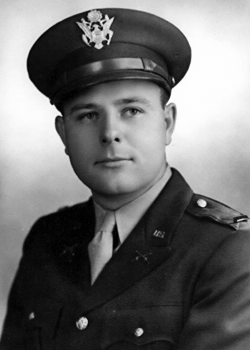 Charles J. Seitz
Biography: Charles Jack Seitz was born in 1915, in Houston, Texas. He was the only child of the late Charles W. and Elizabeth Seitz and grew up in Ohio, graduating from Canton McKinley High School in 1933. He furthered his education at Mount Union College in Alliance, Ohio. During high school, he started working at the local W.T. Grant store as a stockroom boy and continued with the company until he entered the US Army.
Service Time: Charles entered the service on September 29, 1941, at Fort Dix, New Jersey. He obtained the rank of Corporal and was selected for Officer Candidates School, from which, he graduated and was commissioned as a 2nd Lieutenant on May 8, 1942.
He was immediately assigned to the 808th Tank Destroyer Battalion at Camp Robinson, Arkansas with additional training being conducted at Camp Hood, Texas; Camp Phillips and Fort Riley, Kansas; and Camp McCoy, Wisconsin. He assumed command of A Company in early 1943, and was promoted to Captain on May 3rd. On August 11, 1944, they sailed from New York on the USS Hermitage, arriving in Liverpool, England on August 22nd. Less than a month later, they boarded transports and sailed from Dorchester, England, landing on Utah Beach on September 19th.
The unit's first enemy contact was on September 25th in Dieulourd, France, which is along the Moselle River. They participated in the Ardennes, Rhineland, and Central Europe campaigns and A company was in combat for 225 consecutive days. At the end of the war, the unit was stationed in Linz, Austria.
Upon returning to the U.S., the unit was deactivated but Charles remained in the Reserves, obtaining the rank of Major. He was honorably discharged from the Army of the United States in June 1953.
Charles returned to the W.T. Grant Co., where he continued to work until 1975. At the time of his retirement from Grant's, he was Merchandise Development Vice President and concurrently President of GIS International Merchandising Corp (a Grant subsidiary). Following his career at Grant's, he continued to work as a management recruiter and consultant at Inside Management Associates.
Charles married Dolores "Val" Storck on June 26, 1948, and moved to Greenwich, Connecticut in 1954, where they lived and raised their four children (two sets of twins). In his spare time, he enjoyed playing golf. They moved to Bloomfield, Connecticut in 2006, and Charles passed away on May 18, 2009. He was buried in Woodland Cemetery in Dayton, Ohio.
I wish to thank Charles' family for providing the information and photo for this tribute.