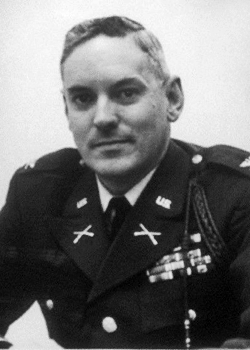 Sam H. Sharp
Biography: Sam Houston Sharp was born on July 11, 1921, in Antlers, Oklahoma. He was the son of Leo C. Sharp and Grace M. Brock and attended Antler's public schools followed by Oklahoma A&M College and Oklahoma State University. During his school years, he was a member of Sigma Phi Epsilon, Oklahoma Alpha Chapter, Pershing Rifles, Hell Hounds, Officers Club, Scabbard and Blade and Blue Key.
Service Time: Sam entered the Army from ROTC in January, 1943. He attended Officer Candidate School at Camp Hood, Texas and was commissioned as a 2nd Lieutenant in the Infantry Reserve on May 7, 1943. At some point, he was assigned to the 7th Armored
Division and served with them during WWII. Following the end of combat, Sam remained in Europe with the Occupation Forces, serving with the Military Railway Service Military Police, Third Infantry Division as the assistant G-1 and as a Zone Constabulary troop commander until 1947.
Furlough Article – The Antlers American, 2-2-47
He was next assigned duty with the 2nd Infantry Division, 9th Infantry Regiment, as Commander Company C, Cannon Co, Heavy Motor Co and regimental adjutant; served second tour of Germany 1950-53 with 2nd Armored Division as S-3 66th Medium Tank Battalion and with Headquarters Seventh Army and the U.S. Army, Europe, as Aide de Camp to the Commander in Chief, General William M. Hoge.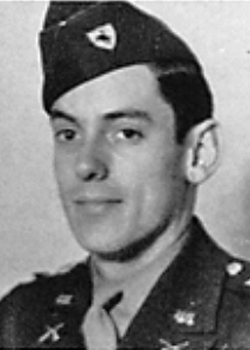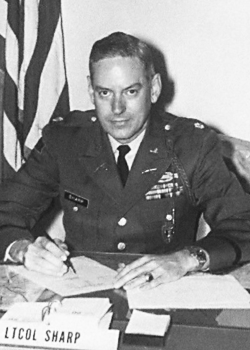 The photo above left is Sam while attending Oklahoma State University.
Following a tour in Korea with the 1st Cavalry Division as asst. G-3, he was an instructor at the Command and General Staff College for four years (1959-63) in Strategic and Command Subjects such as Communism and Military History and instructing on the Soviet Military System and Organization and Management. Qualifications in nuclear weapons employment and duty in Continental Army Command combat developments with responsibility for armor,
psychological warfare and special forces.
From 1963-66 he served with the Joint Chiefs of Staff Operations, in the National Military Command Center, at the emergency actions desk on North America and Africa, south of the Sahara. Also served as the Commander, U.S. Army Element, Headquarters, Allied Forces Central Europe 1966-69. His Vietnam Service, 1969-70, included time with HQ USMACV as Deputy Inspector General and advisor to the ARVN Inspector General. He served as Deputy Chief of Staff, U.S. Army STRATCOM, Fort Huachuca, Arizona and Director of Plans Operations and Intelligence, Fort Sam Houston, Texas.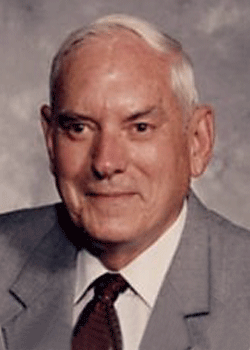 Promoted to Colonel on February 2, 1967, he retired at Fort Sam Houston August 31, 1973. His awards include Expert Infantryman Badge, Combat Infantryman Badge, Joint Chief of Staff Identification Badge, Legion of Merit, Republic of Vietnam (RVN) Communication
Medal, Bronze Star Medal (2 Oak Leaf Clusters (OLC)), Purple Heart, Meritorious Service Medal (1OLC), JSCM (1OLC), RVN Armed Forces Honor Medal (1OCL), Army
Commendation Medal (2OLC) and the Belgium Fourragere.
In 1949, Sam had married the former Berna M. Deane who was born in Tacoma, Washington. She was the daughter of John W. Deane and Vesta M. Ramsdell. The new couple had one son, Sam H. Jr., and three daughters, Merion, Johna and Suzette. After his retirement, they moved to Tucson, Arizona, where Sam was active in many local organizations, including: Pima Co. Republican Club, Sabbar Shrine and Shrine Concert Band, Kiwanis, American Legion, Military Order of World Wars, Veterans of the Battle of the Bulge, Order of the Purple Heart, Master Mason, 32nd Degree Scottish Rite and Tucson Patriotic & Civic Coordinating Council.

Sam passed away on December 11, 2013, and was buried at Arlington National Cemetery, Arlington, Virginia, Section 55, Grave 2604. I want to thank E-Yearbook.com for the photo of Sam while at Oklahoma University.