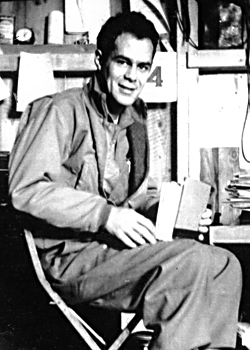 John W. Solomon
Biography: John William Solomon Jr. was born on December 28, 1908, in Springfield, Sagamon County, Illinois. He was the only son, along with three sisters, born to the Reverend John W. Solomon and Cora Delia McReynolds. His sister Mary died of cholera in 1908. He moved to Los Angeles, California, in 1922.
On October 28, 1935, John married the former Lois D. Osborne, who was born in Los Angeles, and was the daughter of Sherrill B. Osborne and Anna L. Narves. A graduate of Stanford University and Stanford Law School, he established a law practice in Laguna Beach, CA, in 1938.
Service Time: While we don't have any information on his prior time in the Army, on January 21, 1942, 1st Lt. John W. Solomon was assigned to and joined Headquarters Company, 607th Tank Destroyer Battalion. On April 3, he was transferred to Battalion Headquarters and on July 28, he was promoted to Captain, assuming the duties of Battalion S-4 Officer.
Transferred to Company A on April 12, 1943, he assumed command on that date. At some point, he was transferred back to Bn. Headquarters and was assigned as the battalion Executive Officer. A promotion to Major came on April 15, 1944, and he was transferred to the 7th Tank Destroyer Group on June 27, 1945. It is believed he left the military at the rank of Lt. Colonel.
When John arrived home after the war, he reunited with his family and returned to his law practice. He and Lois had a daughter, Lois, and three sons, John, Kenneth and Alan. John retired in 1995. His community activities included President of the Laguna Beach School Board, Chairman of the Art Museum Board of Directors, Commander of his American Legion Post, Member of the Board of Directors and Treasurer of the Festival of Arts and Chairman of the Orange County Estate Planning Council.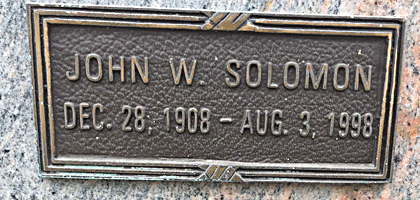 John passed away on August 3, 1998, and was buried in the Pacific View Memorial Park, Corona del Mar, CA.